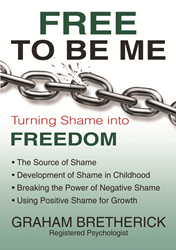 "We will never be put to shame as long we put our hope in God. Most of us, if not all of us, have unresolved shame, yet our hope lies in putting our trust in God."
NEW YORK (PRWEB) December 19, 2018
Free to Be Me by Graham Bretherick discusses a human emotion that is often overlooked and misunderstood: shame. He says that while it remains unnoticed, shame affects our lives in such a significant way and prevents us from finding the purpose for which God has created us. In this book, Graham defines this emotion in detail, differentiates it from guilt, relates it to disgrace and shares with readers that there are ways to live with as well as overcome their shame in order to live freely.
Although God gave us a unique path that leads to our destiny, we lose our way often. Our sins, mistakes, failures, and other painful negative circumstances bind us to a life of restriction. If we are unable to deal with these issues effectively, we simply repress them, only for them to manifest in the future in the form of emotional baggage that hurts us and the people around us. What makes shame very difficult to handle is that many people are unaware of it, giving it the nickname "sleeper emotion."
The author tells readers in the early parts of his book, "God wants all of us free to be the person He created us for, without the impediments of bitterness, anxiety, unresolved guilt, or shame." He then repeats throughout the text, "Our only hope of protection from shame is that God will redeem us from shame."
To enhance the discussion on shame, the writer shares views on it from a psychological and biblical perspective; he cites verses in the Old and New Testament—the book of Psalms and Romans, for example—where the word "shame" is mentioned and referenced in terms of context. Graham then relates prayer to human communication, pointing out that opening yourself up to God and others requires a deep level of trust. If you can't truly trust God, then you cannot get personal with Him; this shows that since many people's prayers lack this fundamental intimacy with God, they end up more religious than real.
Graham—as a way of expressing his own trust in the readers—also shares details about his private life and his own experiences with shame. He uses this story to introduce the different types of shame: your own, that of first experiences, that of others, and shame others bring upon you. While these can seem negative, he also gives examples of how one can alter shame into something positive and conducive to personal growth.
After citing numerous relatable scenarios depicting the different ways we feel ashamed, the author provides steps one can take to shift their view of this emotion. These include trusting God with family, living in positive shame the way Jesus did, and finding freedom in obedience and surrendering to God's will. Graham then challenges readers to spend time in silent prayer admitting to God where they stand in terms of everything they've just learned about shame. He also urges them to find a trusted friend or counsellor to help them work through some of their remaining shame issues, so that they can begin the process of healing and living freely.