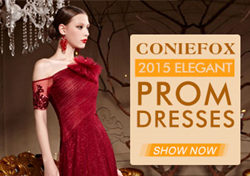 2015 Prom Dresses
(PRWEB) November 10, 2014
Teenage girls often find it quite difficult to find the best evening and party dresses. Coniefoxdress.com, a premium online shop that sells designer apparels, has different sections for dresses designed for different special occasions. Recently, the online retailers added a whole new collection of prom dresses to its online collection. The owners have claimed that the 2015 prom dresses that have been recently added come with highly discounted price tags and that these dresses are designed by the top designers.
Coniefoxdress.com classic evening dresses are suitable for formal balls and college parties, the owners of the store have claimed. They have also added that the buyers can wisely choose from the great variety of colours and laceworks that mark the elegance of these prom dresses. Keeping in mind the college students and teenagers, Coniefoxdress.com has kept the price of the items displayed on their website well below the average market price. Speaking about the marketing goals that have been reflected through these low price tags, the owners have maintained that their objective is to drive sales in large quantities and to ensure maximum profit on gross sales this festive season.
"While our buyers may rejoice at the great discounts available on the prom dresses that conform to the latest fashion trends, this is a well-thought-out marketing plan. Ahead of every festive season, we offer large discounts on special occasion sales to drive more traffic and boost sales. However, we never compromise with the quality of apparel we sell and one may find some of the best brands through our store. We have reached and even crossed sales targets during all other festive seasons by adopting this strategy and discounts on 2015 prom dresses are a part of our yearlong marketing plan," said the owner of the store, who is a designer himself.
However, customers are seemingly not interested in the marketing strategies of the company. Coniefoxdress.com has received quite a few positive feedbacks on the prom dresses on display and owners find it quite encouraging. "We are quite excited at the overwhelming response from our dear patrons", the owner added.
About the Company
Coniefoxdress.com offers a huge collection of 2015 prom dresses at attractive prices now.
To check out the latest collection of prom dresses, visit http://www.coniefoxdress.com/Prom-Dresses/Prom_Dresses_2015/plist565.html