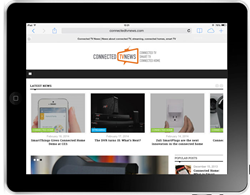 All signs point that the connected home is the future.
New York, NY (PRWEB) February 23, 2014
Connected TV News started a blog in November 2013 covering trends in the ever changing and booming connected home space. Focusing on both smart home systems and content streaming, Connected TV News provides a comprehensive lens into developments in the connected home industry. With giants like Google making plays in the connected home, the pace of development and innovation in this industry is only expected to quicken. The IDC estimates that by 2013, the number of devices connected to the Internet will total about 30 billion. Connected TV news will track the new technology products coming from the most forward-thinking startups in the connected home space, as well as current user trends in entertainment streaming.
"All signs point that the connected home is the future," says Connected TV News blog poster Holly Russell. "The big entertainment companies are making plays to offer their content on branded apps and in the app portfolios of popular streaming devices and gaming consoles." Consumers are demanding greater connectivity and ease of access not just in the streaming entertainment space, but also across their entire home – from garage door openers to sound systems. Russell also noted "regulatory, security, and even cultural issues are facing the internet of things movement. It's an exciting space to be in and we created the blog to follow this story."
Connected TV News will regularly post articles exploring the changing landscape of connected home innovation and the updates consumers can expect in entertainment streaming. Connected TV News will continue to track which new content providers are coming to popular platforms like Apple TV, Roku, and PlayStation, as well as provide practical reviews of streaming and connected home devices recently released by both technology giants and start-ups. Readers can expect the consumer-friendly blog voice to center on creative technology solutions that are integrating user experiences across the entire household, as well as individual devices and platforms.