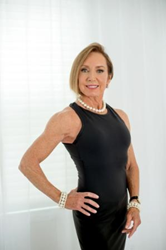 It's pretty amazing that this particular implant has the lowest capsular contraction rate and the lowest leak rate of all of its competitors, yet offers a similar natural look and feel for which silicone gel implants are known.
WESTPORT, Conn. (PRWEB) October 30, 2018
Connecticut Plastic Surgeon Dr. Ellen Mahony shared her patient's concerns about the potential for silent rupture with silicone gel implants, so she began offering the IDEAL IMPLANT® Structured Breast Implant in her practice to better address their needs. Her patients have responded enthusiastically, and as a result, Dr. Mahony has now been recognized as an IDEAL IMPLANT Premier Surgeon, an elite group of Board Certified plastic surgeons with the most experience using the new implant technology.
"The IDEAL IMPLANT Structured Breast Implant has the best safety profile out there right now," explained Dr. Mahony. "It's pretty amazing that this particular implant has the lowest capsular contraction rate and the lowest leak rate of all of its competitors, yet offers a similar natural look and feel for which silicone gel implants are known. Women don't have anxiety about potential silent rupture or wondering whether the implant is intact. It's truly an ideal option for the majority of my breast augmentation patients."
Dr. Mahony explained that there are now three types of breast implants: saline implants, silicone gel implants, and structured implants, which are filled with saline, but have a unique inner structure which controls movement and creates a more natural look and feel. Traditional saline implants were the norm during the FDA ban on silicone gel implants between 1992-2006, and offered women the peace of mind of only saline inside and instant rupture detection. Yet, many felt saline lacked the more natural look and feel of silicone gel implants, which became more common in recent years, despite increasing concerns women have about silent rupture. The structured breast implant was developed to avoid the concerns of both earlier options.
Recent survey findings showed that over 98% of women reported feeling concerned about the potential of silent rupture with silicone gel breast implants, which is best determined through an MRI. While the FDA recommends women with silicone gel implants get an MRI every two years to detect potential rupture and that the implant be removed if ruptured, compliance rates are low. In addition, the sensitivity of the MRI for detecting a leak is very poor meaning that not only are leaks not being detected by the study but also the MRIs are detecting 'leaks' that don't really exist. This issue has resulted in new sets of problems. First, an estimated 150,000 women are unknowingly living with ruptured silicone implants, and detection delays can result in increased complications and more complex removal surgery. Further, some women are undergoing unnecessary surgery for leaks that do not exist. These factors may be driving the trend toward the structured breast implant technology.
"We are very pleased to add Dr. Mahony to the select group of IDEAL IMPLANT Premier Surgeons who have shown a commitment to ensuring women have all of their options available and are presented with the performance data between the breast implants in an unbiased way," explained Dr. Robert S. Hamas, IDEAL IMPLANT inventor and board-certified plastic surgeon. "Technology is advancing in every area of our lives, and, as a result, women no longer have to compromise the beautiful look and feel they want for the peace of mind of knowing what is happening inside their body."
As both a woman and a surgeon, Dr. Mahony agrees. "I've had saline breast implants for 14 years and I've been very happy with them, yet I expect at some point in the future it will be time for a change. I have been waiting for something better. Just like my patients, I don't want to feel stuck between the two previous choices and their compromises. Now that we have IDEAL IMPLANT, this is absolutely what I would go with when that time comes."
About Dr. Ellen Mahony
Dr. Mahony offers her extensive academic, surgical, and therapeutic background to cosmetic surgery patients across southern Connecticut and the surrounding areas. Over the course of her career, she has been awarded research and merit scholarships, and recognized with several awards from professional medical organizations, including the American Medical Association (AMA). She is one of the very few female plastic surgeons in Connecticut to be certified by the American Board of Plastic Surgery, and is a member of The American College of Surgeons and The American Society for Aesthetic Surgery. She is licensed to practice in Connecticut, New York and Maine, and is also a licensed physical therapist in the state of Connecticut.
For more information, visit http://www.drellenmahony.com.
About IDEAL IMPLANT
Ideal Implant Incorporated, a privately held company, was founded in 2006 by Robert S. Hamas, MD, the board-certified plastic surgeon who invented the IDEAL IMPLANT. After years of dealing with ruptured silicone gel implants and listening to patient concerns, Dr. Hamas realized that women wanted a new type of breast implant—one that would combine the natural feel of a silicone gel implant with only saline inside for peace of mind.
The unique design of the IDEAL IMPLANT provides a natural feel and youthful look—without using silicone gel. The IDEAL IMPLANT incorporates a series of shells nested together and two separate chambers that hold saline. Though made with standard implant materials, the IDEAL IMPLANT uses an advanced internal structure to control movement of the saline and support the implant edges to reduce collapse and wrinkling. The IDEAL IMPLANT has undergone ten years of development, testing, and refinement—including contributions of clinical expertise from several board-certified plastic surgeons. The IDEAL IMPLANT was approved by both the U.S. Food and Drug Administration and Health Canada in 2014.
For more information, visit http://www.idealimplant.com.