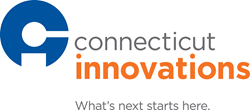 Rocky Hill, Conn. (PRWEB) August 11, 2014
Connecticut Innovations (CI), the leading source of financing and ongoing support for Connecticut's innovative, growing companies, today announced a $300,000 investment in IsoPlexis, a life science research tools company located in Branford, Conn.
The funding will help the company conduct engineering and software updates, finalize a beta version of its product, and support additional hospital and clinical case studies. It will also go toward product development and working capital.
"This early-stage company is making considerable advances in cancer immunotherapy," said Matthew Storeygard, senior investment associate at Connecticut Innovations. "The IsoPlexis micro-device and software helps drug developers identify cellular activity by providing 10 times more data per cell than the industry standard single-cell analysis tool."
Leading pharmaceutical and biotechnology firms have shifted their research to cutting-edge monoclonal antibody therapies that target individual cells to combat cancer and other chronic diseases. IsoPlexis' micro-device and software suite is the first technology that can reliably measure many reactions per cell; the additional information provides a more thorough picture of drug reaction at the cellular level.
"Our breakthrough technology identifies proteins that are important early indicators of efficacy and side effects," said Sean Mackay, CEO of IsoPlexis. "IsoPlexis' data also provide a more specific and precise read of the cellular impact of the therapies per patient, which is critical because patients typically respond differently to the therapies of interest."
About Connecticut Innovations Inc.
Connecticut Innovations (CI) is the leading source of financing and ongoing support for Connecticut's innovative, growing companies. To maximize the growth potential of each business, CI tailors its solutions and often combines its funds with resources from other financial leaders to provide venture capital and strategic support for early-stage technology companies; flexible loans for established companies with new innovations; grants that support innovation and collaboration; and connections to its well-established network of partners and professionals. Through all these initiatives, CI has helped bring $4 billion in financing to Connecticut companies. The state's most active early-stage investor, CI has created more than 26,000 jobs. For more information on CI, please visit http://www.ctinnovations.com.