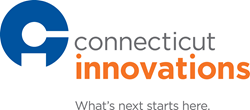 Rocky Hill, Conn. (PRWEB) July 02, 2014
Connecticut Innovations (CI), the leading source of financing and ongoing support for Connecticut's innovative, growing companies, today announced that it has provided a $1.5 million loan to Perosphere Inc. (Perosphere) for construction of laboratory space and a manufacturing suite in Danbury, Conn.
Perosphere is a specialty pharmaceutical company focused on developing rescue medications. The company's lead drug candidate, a reversal agent for new oral anticoagulants, is currently in Phase II clinical trials.
"Perosphere is an emerging technology company that is at a pivotal growth point," said Kevin Crowley, managing director of investments at Connecticut Innovations. "It has a strong management team in place and is an organization that can have not only a positive economic impact but also contribute scientifically to the advancement of rescue medications."
The company's headquarters will house more than 30 employees in a 16,000 square feet stand-alone building, including 12,000 square feet of laboratory and manufacturing space.
"The new facility will allow us to employ more people to conduct our lifesaving research," said Solomon Steiner, president and CEO of Perosphere. "The funding from Connecticut Innovations will help us to build out and equip our manufacturing space, which is being designed to formulate and produce worldwide supplies of finished drug product for Perosphere's lead drug candidate."
Founded in 2011, Perosphere also has programs directed at ultra-rapid-acting insulin lispro; repurposing felbamate as a neuroprotective for traumatic brain injury; and rapid desensitization to peanuts in allergic individuals.
The Connecticut Innovations Bio-Facilities Fund provides financial solutions to qualified biotechnology companies for the construction of wet laboratory and office-related space. Since the fund's inception in 1998, CI has committed more than $40 million to facilitate the creation of more than 330,000 square feet of new laboratory and related space in the state.
About Connecticut Innovations Inc.
Connecticut Innovations (CI) is the leading source of financing and ongoing support for Connecticut's innovative, growing companies. To maximize the growth potential of each business, CI tailors its solutions and often combines its funds with resources from other financial leaders to provide venture capital and strategic support for early-stage technology companies; flexible loans for established companies with new innovations; grants that support innovation and collaboration; and connections to its well-established network of partners and professionals. Through all these initiatives, CI has helped bring $4 billion in financing to Connecticut companies. The state's most active early-stage investor, CI has created more than 26,000 jobs. For more information on CI, please visit http://www.ctinnovations.com.