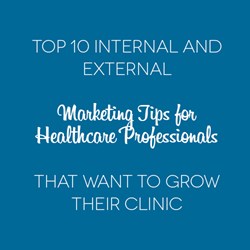 I am sharing my 10 top tips for healthcare practitioners and clinic owners to use to attract, acquire, and retain new and existing patients.
Vancouver, BC (PRWEB) September 19, 2013
Years ago it was easy to market a business online. The Internet was still somewhat of a complex mystery to many and as such had minimal competition. If a clinic paid for search engine optimization or Google Adwords it was easy to see a return on the investment. Then slowly and steadily, more and more clinics started to adopt online marketing practices, new marketing services were created and the internet became the go-to place for clinics to market their business. The fact of the matter is that there are tens, if not hundreds of clinics that offer the same services. It is often tough and overwhelming for clinic owner's to chart out a method to significantly stand out, draw more customers and ultimately grow their business.
In 2011, Nash Kassam, the Marketing Director of Yaletown Laser & Cosmetic Dentistry was faced with these same challenges. He was given one simple task – "grow the business." After timeless hours of research, strategizing like crazy, and maybe even some luck, he was able to implement a marketing plan and grow revenues by over 40%, generating hundreds of thousands of dollars for the clinic. The business set record numbers and he was the one receiving all the credit.
From this experience Nash learned how challenging and time consuming marketing for a healthcare clinic can be. Realistically, most businesses cannot afford to have a full time marketing director.
In an effort to solve so many problems that healthcare clinics face every day, he founded a healthcare marketing and scheduling platform with his brother called Connect the Doc. The platform amalgamates a few different marketing tactics and services into one easy-to-use service. While the service is a launch pad for successful marketing, there is never one software that does everything.
For this reason, Nash has shared his 10 top tips for healthcare practitioners and clinic owners to use to attract, acquire, and retain new and existing patients.
1. Kill'em with Kindness
Keeping an existing customer is going to cost much less than acquiring a new one! You have to treat every patient that walks through your door like they are the most important patient at your clinic. You want as many of these patients to be your "sneezers," as Seth Godin would say. These are the patients that will talk about you, refer their friends, try new services, and book more appointments. Remember, the average value of a patient can be worth thousands of dollars, so make sure you keep them coming back!
2. Encourage Referrals & Feedback
Word of Mouth is the most effective form of marketing because of the trust and social validation involved. Encourage your patients to speak up and tell their friends. Thank them when a new patient books an appointment because of their referral. Some clinics send a card, others offer $10 gift certificates, chocolates, or other small, inexpensive gifts. I also encourage all of my clients to build a referral network with different healthcare practitioners that compliment the services that are provide. With this said, please make sure you are not violating any association rules with your referral programs.
3. Internal Messaging – Accepting New Patients
Throughout your office and around your storefront you should have clear messaging that your business is accepting new patients. Just for fun, create a survey and hand it out to patients for 1 week. Ask them 3 questions. One – Do you think my office is accepting new patients? Two - Do you know about our referral program? Three - Did you know we offer Blank (a secondary service offering) service or promotion? Your results will quickly show you how effective your internal messaging is.
4. Training and Continuing Education
Your treatment staff and front end run your business. Make sure they are constantly being educated on languaging, protocols, service offerings, and sales techniques so that you are taking advantage of all the opportunities that come your way. Whether it is a phone call or walk in, your staff should be prepared to answer any questions so that these prospective patients become lifelong patients.
5. Team Bonuses
As a business you have to meet certain numbers. Know your BAM (bare ass minimums) figures and set achievable goals both individually and collectively as a team. Map out your progress throughout the month and have a bonus system that rewards your staff for hard work and higher profitability. This will also encourage cross-referrals within your office if their are different types of services.
6. Fill up your schedule
Empty chair space is costing your business. Have a short notice appointment list for cancellations or try and fill gaps with patients in your schedule for a later date. A simple phone call asking a patient if it is more convenient to come in earlier may benefit you and your patient. You can also offer online bookings through Connect the Doc so that both new and existing patients can book short notice appointments from either your website or from ours. With bonuses in place for all of your staff, your front end and office manager will work even harder to fill up those gaps.
7. Your Website
Nowadays everything is online. Make sure you have an updated website with all the important information easily accessible. Make sure it is visually appealing, easy to navigate through, has distinct call to actions on each page, and has Google Analytics installed. On the contact page or in the header add a Connect the Doc booking button so that you can convert more web traffic!
8. Time is Money - Do it yourself
I suggest you save a little marketing money and spend some time doing it yourself – perhaps during a missed appointment or during a time block each week. Since everyone is now paying for search engine optimization, Google has changed their algorithm and now focuses more on user experience and analytics to determine which sites are most relevant. Spend some time updating different pages on your website, writing blog posts, and answering FAQ questions. Link popular posts / pages to other parts of your website to increase its organic rankings.
9. Tracking and Analytics
Make sure that you have Google Analytics installed on your website. You can also set up goals to see if people getting to your website are taking the desired action. Based on feedback you get you can optimize your site in different ways to help point prospective patients in the right direction. I believe that unless an office is at capacity, they should make a little bit of time for complimentary consultations. Anytime you get the opportunity to meet a prospective patient you are going to have a better chance of converting them. On patient intake forms, have a section with multiple choice answers of how they found your clinic.
10. Online Marketing
If you have analytics installed, an up-to-date website, and call to actions on each page you can expect to convert web traffic. Find out the value of a new patient to your business and start with Google Adwords. Learn the keywords that drive the most conversions and consider on and off site search engine optimization. Keep in mind that it usually takes over 6 months to get on the first page of Google, and even then, you can lose your rankings immediately if Google changes its algorithm. There are lots of free directories you can join like Yelp and Google Places which can drive traffic to your site at no cost. Connect the Doc blends the two concepts together and offers a Risk Free option that guarantees you will get new patients.
Taking your clinic to the next level starts with one simple change – your mindset.
If you are willing to accept the fact that you are running a business then you have taken the most important first step. With the right systems and tools in place you can make your business significantly more profitable with only a few simple changes.
We built Connect the Doc for these clinics. Connect the Doc helps healthcare clinics attract, acquire and retain patients. With our unique healthcare specific search engine and online appointment booking platform, clinics can acquire new patients and keep existing patients happier. In fact, 100% of clinics using our premium package are more profitable, have more efficient schedules, and save time trying to schedule appointments. To learn more about how Connect the Doc can help you grow your healthcare clinic, you can visit http://www.joinctd.com. If you enjoyed reading this article, feel free to check out some of our other resources on our healthcare marketing blog on Join CTD!