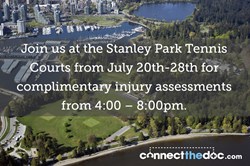 I came across Connectthedoc.com in the evening after injuring my back playing soccer. Within a few minutes navigating through the site, I had found, booked, and confirmed my appointment for the next morning. - Jeff K.
Vancouver, BC (PRWEB) July 16, 2013
Come by the Connect the Doc tent at Tennis Bc's 82nd Stanley Park Open, where CTD's network of healthcare professionals will be providing complimentary registered massage therapy, physiotherapy, acupuncture and chiropractic services!
From 4:00 to dark from the 20th - 28th, CTD practitioners will be on-site providing complimentary injury assessments and treatments to spectators, organizers, volunteers and athletes. Some of these practitioners include Vancouver chiropractor, Dr. Ali Walizada and his team from Peak Performance Health Centre; Paige Allen, a Registered Massage Therapist from Armitage & Associates; Jessica Zerr, an acupuncturist from Qi Integrate Health Clinic; and Lesley Cuddington, a physiotherapist from one of Vancouver's newest comprehensive healthcare clinics, Teamworks Health Clinic.
From the 13th – 20th, a physiotherapist and/or athletic trainer will be on site for the entire day providing complimentary treatments for the ITF and Wheelchair participants. During the event, Connect the Doc will be giving away a $20 gift card to Starbucks, Chapters, or SportChek to new patients who book an appointment online.
Connect the Doc has always been an advocate of healthy living and promotes an active lifestyle amongst Vancouverites. Co-Founders Nadeem and Nasheel Kassam are very active in the Vancouver sporting community; Nadeem will be participating in the Stanley Open for the 17th straight year playing in both men's doubles and mixed doubles.
About:
Connect the Doc is an online booking platform that helps patients find and book short notice healthcare appointments with practitioners that have last minute availabilities. For more information, please visit connectthedoc.com or joinctd.com.