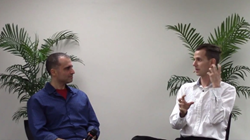 Los Angeles, CA (PRWEB) September 24, 2014
Fear is a strong emotion that is really good at holding people back. Whether the fear is of a certain action, situation, or object, fear controls many different people and lives. Whether it is a somewhat dangerous situation or a fear someone has had since their childhood, fear is incredibly controlling and impacts everyday life. Many people spend their whole lives learning how to cope with certain fears and are still unsuccessful. Now a new video released by Conscious Counselor explains techniques on how to overcome and conquer fear.
"I used to be incredibly afraid of people and I still am to a certain degree. So when I approach those complete strangers, I was incredibly terrified. What made the fear completely go away was that I focused on a part of my body. I focused on my feet," says Conscious Counselor spokesperson, Quin.
Quin continues to say that focusing on his feet made him incredibly grounded and poised. By having this type of stance, it allowed Quin to speak to the strangers he was afraid of with ease.
One of the most powerful ways to conquer fear is to ask oneself what exactly they are afraid of. By imagining the worst scenario possible, more logic is brought to the fear and thus overcome. Quin says that in the end those learning how to overcome fear will realize how irrational or over thought some fears can be. Participants in this exercise will be ready to battle fear in order to conquer what is often times holding them back in many aspects of their lives.
Quin says "[Fear] is what is literally controlling you." He continues to say that people would not have these fears if the opposite did not exist. For instance, Quin's previous fear of people means that he himself could judge others or does judge others, leading to a fear that other people can judge or demean him as well. For the full video on this, please click on: https://www.youtube.com/watch?v=Is3RAgfEiuM
"Who am I discriminating against? If I bring these people to my level, I am not better than these people. I am not worse than these people. These people are my brothers, these people are my sisters, these people are my peers," continues Quin.
This extreme emotional threat has a huge impact on the brain and the rest of the body. One of the most important things to remember when trying to overcome fear is to remember that conquering this emotion is possible.
Quin says the three best ways to conquer fear are to focus on something real, look at the worst possibilities of the fear or what happens when the fear is confronted, and last, look at what oneself could do in that same scenario.
"Fear is that invisible blanket that covers everything," says another Conscious Counselor spokesperson named Alex.
Alex continues, "The only way to deal with [fear] is to make it a priority in your life. That is the only way the work does anything for [a person]. There is fear underneath everything and it does not need to be there. I've been letting it live because I've been unwilling to look at it. You're not wrong for feeling the way you feel."
Fear can come in many different forms of matter. Fear can be of water, spaces, animals, insects, situations, or even people. Often times with hard work, fear can be conquered by using rational thought and playing out scenarios. Fear is a feeling that can be overcome with practice and patience.
Quin has recently started an organization called Conscious Counselor which brings to light healthy ways for living. This is for all subject matter, whether it is food or every day life. Some of his other videos are: Becoming happy and staying present, how to deal with your emotions, how to get grounded, and more. You can look up Conscious Counselor on you tube to find these videos. Or to stay connected with Quin, please visit him on facebook: facebook.com/sead.pepic.14
Qiun
Conscious Counselor
(845) 494-0969
http://www.ConsciousCounselor.com