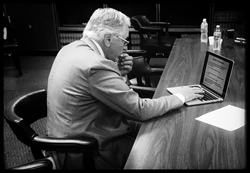 "We are not asking for one dollar more or one dollar less than what we are owed,"
Fort Lauderdale, FL (PRWEB) March 03, 2017
The litigation law firm of Conrad & Scherer, led by Founding Partner William R. Scherer, has won a $43.97 million verdict on behalf of a condo development company that included such investors as billionaire Wayne Huizenga, former NFL star Dan Marino and former AutoNation Inc. executive Michael Maroone. (Case No. 10-38942 CACE (02))
A jury in Broward County Circuit Court took less than three hours to reach the verdict following a four-day trial. "We are not asking for one dollar more or one dollar less than what we are owed," Scherer had told the jury.
In court, Scherer explained that plaintiffs Veranda Condominium I LLC and West City Realty Advisors LLC, developing the 201-unit Veranda condominium development in Plantation, Florida in 2007, were due a 100 percent reimbursement for monies lost due to a mistake by Wachovia Bank, now a subsidy of Wells Fargo. The trial was only about damages, as the court had already found Wells Fargo responsible for actions that led to the default of a construction loan on the Veranda project.
Prior to the trial for damages, the court had ruled in favor of Scherer's complaint which charged the bank with violating the Uniform Trade Secrets Act by group emailing contact information for buyers who had made deposits, resulting in the cancellation of 119 sales contracts and an eventual class action lawsuit. The developer's contract with Wachovia had ensured confidentiality of buyer information
"You are only here to decide how much money the bank owes," Scherer told the jury, "they did not keep their word."
The Conrad & Scherer legal team produced evidence, including Internal Revenue tax filings, which showed specifically how much money was lost by the development company. Scherer explained that the developers had designed a "gold standard" project that initially sold out quickly, and had invested a large sum in meeting their obligations to the buyers.
Instead of reaping the profits of their investment, Scherer said the developers lost the project to the construction loan default and were forced to watch another development firm complete and benefit from the project.
In their decision, the jury rejected arguments by Wachovia defense attorneys that much of the $43.97 million in losses were due to unnecessary spending by the developers and their failure to take appropriate action when the buyer crisis arose. Scherer had explained that the terms of the construction loan from a second bank precluded many of the potential actions brought up by the defense.
Founded in 1974 by William R. "Bill" Scherer, Conrad & Scherer provides tenacious legal counsel in high stakes, complex commercial litigation cases, for high profile clients. Through a client-centric approach, confident and experienced attorneys employ effective and creative strategies to achieve indisputable results for the firm's clients. In addition to its commercial litigation practice, the firm also advocates on legal matters involving bankruptcy, family law, government relations, fund formations and international business. The firm, with locations in Fort Lauderdale, Florida; Brevard, North Carolina; and Quito, Ecuador has been recognized as a Top Law Firm by the South Florida Legal Guide and is AV Rated® by Martindale-Hubbell®. For more information about the firm visit http://www.conradscherer.com.