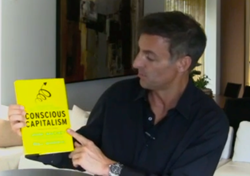 In business, if you don't stand for something, you stand for nothing - a big messaging problem a lot of struggling business owners face today. We fix that in our group.
Miami, FL (PRWEB) September 11, 2013
Renegade South Florida Entrepreneurs (RSFE), Miami's top marketing group, announced its new partnership with Conscious Capitalism Florida Chapter, and will feature its chapter director and founder to speak at the next entrepreneurial group's event, on September 26, 2013, from 3-6 p.m., in Hollywood, Fla. To register for the free event, professionals and business owners are encouraged to visit http://www.nobsmiami.com/event.
Co-written by CEO and Co-Founder of Whole Foods Market, John Mackey, and renowned marketing professor Rajendra Sisodia, Conscious Capitalism has become a best seller, as well as a global movement. The organization has spawned local companies and entrepreneurs dedicated to advancing the understanding and application of its principles.
In partnership with the No. 1 direct-response marketing group in the world, Glazer-Kennedy Insider's Circle (GKIC), Renegade South Florida Entrepreneurs Founder Andrew Cass will go beyond traditional marketing and wealth building topics. Conscious Capitalism advocates are being invited to tell members and guests about this emerging business paradigm. Attendees will discover how to integrate their purpose and mission, how to grow their business, and help advance society.
"Success seems to follow those striving for more than just personal gain; it follows those with a strategic plan in place to reach higher purposes – be it through direct community involvement or simply by maintaining mutually beneficial relationships with partners, vendors, employees and customers," said Cass. "It is not hard to verify that most successful companies, no matter their size, are conscious companies."
The four core principles that guide a conscious business that will be discussed at the meeting include: 1) Culture, 2) Purpose, 3) Stakeholder and 4) Leadership. Cass believes this meeting will encourage entrepreneurs to find even deeper purpose in their businesses, thus generating long-term rewards.
John Mackey believes business is a powerful force for good. "The entrepreneurial creativity of Americans is astounding. We are so creative. We have so much potential, and business will be the vehicle that we do this with," Mackey said.
Numerous company owners and CEOs have endorsed this burgeoning business approach.
"I have long believed that companies have a responsibility to balance profitability with a social conscience, yet few leaders have an inherent understanding of just how to do it. In Conscious Capitalism, John Mackey and Raj Sisodia provide a timely, realistic framework so companies can better serve a variety of stakeholders," noted Howard Schultz, chairman, president and CEO of Starbucks.
Cass points out that a notable quotation from the best-selling book highlights the central meaning of conscious capitalism. "People are most fulfilled and happiest when their work is aligned with their own inner passions. Personal passion, corporate purpose, and business performance all go together."
"In business, if you don't stand for something, you stand for nothing - a big messaging problem a lot of struggling business owners face today," Cass commented. "We fix that in our group."
First-time guests are invited to join other entrepreneurs at this historic event, free of charge, and are encouraged to attend a brief orientation at 2 p.m. They can receive up to $1,000 in free gifts from the top direct-response marketing group in the world [GKIC]. More details about RSFE are available at http://www.nobsmiami.com.
About Renegade South Florida Entrepreneurs / GKIC Miami Chapter
RSFE is in partnership with GKIC, the world's leading direct response marketing organization, and also with InfusionSoft, the top all-in-one sales and marketing software built for small businesses.
The RSFE events are where South Florida's brightest entrepreneurs gather to discuss ideas and help each other achieve breakthroughs in their businesses.
Host and Chapter Director Andrew J. Cass is co-author with marketing guru Dan Kennedy in The Ultimate Success Secret: South Florida Edition.
Andrew is also a Direct Sales and Marketing Strategist, 'Dan Kennedy Certified' Business Advisor, speaker, and owns his own Mobile Marketing business. Additional information is available at http://nobsmiami.com.