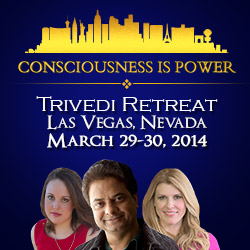 Once your consciousness resonates with Nature you can harness the Grace of God and attract abundance in every aspect of your life.
(PRWEB) March 25, 2014
Las Vegas, Nevada: Trivedi Retreat 'Consciousness is Power' is a two day event which is being organized by the Trivedi Master Wellness™ on March 29-30, 2014, at the Alexis Park.
Over the course of this two day retreat -

Mahendra Trivedi and Trivedi Masters™ Alice Branton and Dahryn Trivedi will give useful discourses and talk about methods to experience increased consciousness, transformation and abundance.
Participants will get to know more about the wonderful results from some of the thousands of studies carried out on The Trivedi Effect® and understand why top scientists are eager to do further research.
They will listen to individuals discussing their marvelous experiences and enhancements in their lives, not just in their economic prosperity, but also in their physical, mental, emotional, sexual and social well- being.
Participants will be able to meet the Trivedi Masters™ in person and discuss any individual issues face -to- face and also receive powerful In-person Individual Energy Transmissions.
Having received the powerful Energy Transmissions from Mahendra Trivedi and the Trivedi Masters™, people will soon begin to experience the amazing impact of The Trivedi Effect® in their lives.
The Trivedi Effect® is a natural and unique phenomenon introduced by Mahendra Trivedi during which Universal Energy is harnessed and transmitted to the people through the power of thoughts. This energy is capable of bringing remarkable transformations into the people receiving it. The Trivedi Effect® significantly improves each individual's ability to listen to his or her own inner guidance system and ultimately leading to the infinite source of Universal Intelligence. In addition to Mahendra Trivedi – The Master of Transformation, three other Trivedi Masters™ also have this great capability of Energy Transmission.
Mahendra Trivedi has undertaken more than 4000 experiments on The Trivedi Effect® in order to authenticate it and eradicate the possibilities of the placebo effect. The impact of this phenomenon has been measured, validated and documented in major research institutes throughout the world, resulting in several publications in leading international peer- reviewed scientific journals.
Thousands of people have reported that the Energy Transmissions by Mahendra Trivedi have improved their business, advanced their careers and transformed their finances. The Trivedi Effect® has even deepened relationships and assisted people discover their true life purpose. After receiving the Energy Transmissions, people have reported to have experienced relief in their physical, mental, emotional, sexual, spiritual as well as financial aspects of their lives.
If The Trivedi Effect® can do so much for so many, it will certainly make an improvement in the lives of people who will experience the Energy Transmissions from Mahendra Trivedi. Individuals can take part in this phenomenal Trivedi Retreat 'Consciousness is Power' right from the comfort of their homes. They may opt in for an online webcast session of the event if they are unable to attend the program.
People who want to participate in this valuable Trivedi Retreat and those who want to register themselves for In-person Individual Energy Transmission from one or more Trivedi Master™ can visit http://www.trivedimasterwellness.com/raise-your-consciousness-level. They can also register for an online participation.
About Trivedi Master Wellness™: Mahendra Trivedi has the unique ability to create The Trivedi Effect® and has the scientific evidence to prove it. This phenomenon of Energy Transmission has been tested in over 4,000 experiments conducted using stringent methodologies and the most advanced technologies available on this planet. Many results have been published in leading international, peer-reviewed, scientific journals. Each experiment shows significant transformation with consistent results. The resulting changes show that this energy has the remarkable ability to improve the functionality and potential of an individual. Trivedi Master Wellness™ established in 2011 is intended to provide the benefits of The Trivedi Effect® to optimize human potential throughout the world.
Websites: http://www.trivedimasterwellness.com/, http://www.trivedieffect.com/, http://trivedifoundation.org/, http://trivediproducts.com/.
Call us on: +1-877-493-4092
For inquiries please mail us at: cs(at)trivedieffect(dot)com