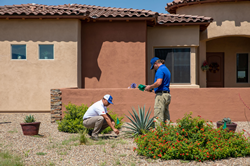 "We are excited to welcome Joseph into the Conserva Irrigation family as oneof our newest franchisees," announced Jake Mathre, Director of FranchiseOperations.
TUSCON, Ariz. (PRWEB) October 25, 2022
Conserva Irrigation is happy to announce that Joseph Alvarado has opened a new franchise location, serving the Tucson area.
Known as Conserva Irrigation of Tucson East, Alvarado will lead a team of irrigation designers and technicians in repair, maintenance, and installation of home and commercial irrigation systems.
Some of the areas that Alvarado's operation will serve include Tucson, Vail, Catalina Foothills, Corona de Tucson, Green Valley, Oro Valley, Sahuarita, and Tanque Verde.
"We are excited to welcome Joseph into the Conserva Irrigation family as one of our newest franchisees," announced Jake Mathre, Director of Franchise Operations. "With his past business experience and network, we are confident he will have a significant impact in water efficiency and education in the Tucson region."
Conserva Irrigation of Tucson East is the first location in the state of Arizona. Before purchasing the local Conserva Irrigation operation, Alvarado served in the Air Force. "The Air Force gave me the tools to lead and manage people…" said Alvarado. "Now, I know that I want to positively impact my community by hiring local talent and creating local community leaders through my role as a Conserva Irrigation owner."
Alvarado is an Air Force Veteran who spent 20 years serving at various locations throughout the US. Now, Alvarado and his wife, Valerie, are excited to begin their journey of business ownership. When the two aren't helping local Tucson residents and business owners improve their irrigation systems and save water, they like to spend time with their daughter and volunteer at their local Church. Joseph proudly leads Life Track classes at the Church, as well as helps out with the Men's Ministry group. The Alvarados enjoy being active members of their community and look forward to teaching their community about water conservation and irrigation for years to come.
About Conserva Irrigation
Founded as a franchise in 2017, Conserva Irrigation is the only national outdoor irrigation company founded on the principle of water conservation. The brand is part of Outdoor Living Brands, a market-leading franchisor of premium residential and commercial outdoor living services. With nearly 181 territories operating across the country and growing, Conserva Irrigation is helping home and business owners reduce water consumption through its use of a proprietary irrigation auditing system and water-efficient irrigation products. Conserva Irrigation was recently listed on Entrepreneur Magazine's 2022 Franchise 500 list at #230. Additionally, the brand was recognized on the Landscape Management 150 list at #119 and the 2022 Inc. 5000 ranking. For more information about Conserva Irrigation, visit ConservaIrrigation.com, IrrigationFranchise.com or OutdoorLivingBrands.com.