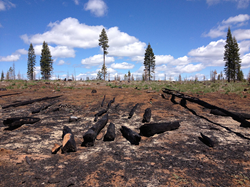 "We needed to find a way to bring this landscape back to life and continue the Collins legacy of maintaining total forest ecosystems," said Eric Schooler, Collins CEO and President.
San Francisco, CA (PRWEB) February 02, 2015
A vast and once-glorious Modoc County forest landscape devastated in the 2012 Barry Point wildfire will be reborn and nurtured into a natural enviornment of healthy forests and meadows, teeming with wildlife, thanks to a first-of-its kind joint forest restoration and conservation project being launched now with a major grant from the Wildlife Conservation Board.
At the same time, to secure the public investment in restoring the damaged habitats, Collins Timber Company LLC, and Modoc Timberlands LLC, owners of the property, generously granted a conservation easement to the Pacific Forest Trust over the entire 32,686-acre Modoc tract, including an estimated 10,000 acres of flourishing forest and meadow habitats. This conservation easement is the largest ever granted by a private commercial timber owner in California; it is also the first time a large restoration grant has been accompanied by a conservation easement gift. The conservation easement will guide sustainable management—enhancing rich and varied habitats in perpetuity while continuing to provide public recreation and forestry jobs for Modoc County.
Ignited by lightning in August 2012 in Oregon, the Barry Point Wildfire burned nearly 93,000 acres of public and private land just west of Goose Lake as it crossed into the northeastern corner of California. What had been a flowing mosaic of habitats—meadows, eastside pine forest, riparian woods and aspen groves, low sage and mountain mahogany—is now scorched earth, with as much as 75% of the forest dead. The burn scar (where most of the forest and plant cover has been lost) is almost 7 miles wide and 6 miles long.
"We needed to find a way to bring this landscape back to life and continue the Collins legacy of maintaining total forest ecosystems," said Eric Schooler, Collins CEO and President. "This was a unique opportunity to replant a massive area and reshape it into the healthy forest it once was. It's an enormously costly undertaking. The grant from the Wildlife Conservation Board lets us get to work, and the Working Forest Conservation Easement reflects our commitment to stewardship at the highest standards."
"We applaud the commitment and vision of Collins. By reinvesting in this land for the long term when other owners might abandon it in despair, Collins is once more demonstrating their core value of sustainability," Connie Best, Co-CEO of the Pacific Forest Trust commented. "We also thank the Wildlife Conservation Board and California Department of Fish and Wildlife for putting the peoples' money to work to restore critical habitat for imperiled species in partnership with Collins. This is the kind of positive, pro-active partnership we need to keep the environment and economy resilient in challenging times."
The goal of the Barry Point Fire Restoration Project is to restore the ecological function of this vast landscape. Collins and PFT are working closely with the California Department of Fish and Wildlife, the USDI Fish and Wildlife Service, and the USDA Natural Resources Conservation Service, among others, to meet this challenge. Absent this effort, the burned area would be overtaken with manzanita and invasive weeds, taking hundreds of years to heal, losing critical habitat for wildlife and jobs for people. The risk of mass sheet erosion threatens Goose Lake, as well as the headwaters of the Pit River and Klamath River drainages.
Collins' 32,686-acre Modoc tract is the largest private ownership in Modoc County and is surrounded on three sides by National Forest, forming the bridge between Modoc National Forest, Fremont-Winema National Forest and Goose Lake. Largely a single, unfragmented block, undeveloped except for road systems, the property provides significant landscape connections between the national forest and Goose Lake. Five state or national wildlife refuges are within the vicinity and the property is within the Pacific Flyway.
Prior to the fire, this exceptionally well-managed commercial forestland and its varied habitats were favored by imperiled species such as great grey owls (California's northern-most population), greater Sandhill crane, goshawk, bald eagle and black-backed woodpecker. Mega-fauna include black bear and mountain lion. Herds of Rocky Mountain elk, mule deer and pronghorn antelope are also resident or migrate through the property between the national forests. The streams and springs provide cool water flows for short-nosed sucker, Modoc sucker and red-band trout.
"This unique project is a great example of creative partnerships to meet the twin goals of ecological and economic resiliency of Proposition 84's Forest Conservation Program, which is funding the Barry Point Fire Restoration Project," John Donnelly, Executive Director of the Wildlife Conservation Board noted. "The WCB grant will be highly leveraged, restoring a whole landscape to benefit dozens of species as well as key watersheds for California."
Collins will continue to own and manage the property as commercial timberland, consistent with the habitat goals of the restoration project and conservation easement. Their ongoing investments in stewardship will benefit the local community and the entire state of California.
About the Pacific Forest Trust
Founded in 1993, the Pacific Forest Trust (PFT) is dedicated to conserving and sustaining America's vital, productive forest landscapes. Working with forest owners, we focus on conserving privately owned working forests for all the benefits they provide, including clean water, sustainably harvested wood, green jobs, renewable and sustainable energy, fish and wildlife habitat, and a livable climate. With an array of stakeholder partners, we advance innovative, incentive-based strategies to safeguard our nation's diverse forest landscapes and the communities they support. Learn more at http://www.pacificforest.org.
About Collins
Headquartered in Oregon and family-owned since 1855, Collins produces high quality wood products including, softwoods, hardwoods, millwork, pine particleboard, veneer logs, engineered wood siding and trim. Collins also features a full line of FSC-certified wood products. A champion of sustainable practices and protecting the integrity of the total forest ecosystem on their landholdings, which cover more than 307,000 acres, Collins upholds their long-standing commitment to land and resource stewardship.
Divisions are located in: Kane, PA, Richwood, WV, Chester, CA, Boardman, Lakeview, and Klamath Falls, OR.