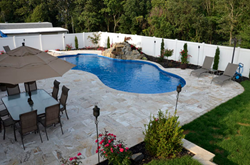 Smithtown, NY (PRWEB) February 26, 2014
Travertine King Inc, a direct importer and distributor of travertine, granite and marble pavers for the Long Island region, is recommending that homeowners on Long Island considering new driveways look closely at the benefits of paver driveways over traditional blacktop and cement, especially in terms of repair costs after rough winters.
With 5 harsh winter storms in the rear-view mirror, Long Island is happily watching the mounds of snow disappear. But what remains are damaged roadways still caked with the residue of sand, rock salt and other snow melting materials. For black top and cement driveways, they are susceptible to the same damage as the road ways as these materials are deposited by parked cars. Over time, the residue of these materials will infiltrate black top and cement driveway causing them to break down and crack.This will lead to repair work that will only increase over time. For the owners of homes with paver driveways, the risk is minimal and this should influence the homeowners looking to install new driveways.
Another factor that paver driveways can handle far better than black top or cement is the spring thaw, where the ground underneath expands and contracts. For the rigid black top and cement driveways, cracks and bumps will appear that, over time, can turn into issues that will require repair. For the owners of paver-based driveways, the structure of driveway having a flexible base of sand or crushed stone and consist of multiple stones that are more flexible in their movement. This allows the driveway to give as needed and when the thaw is done the individual stones can be pressed back to level without the intervention of a professional company making a service call. In the end, the overall savings to the homeowner over time can be substantial. Additionally, as pavers can be easily cleaned and resealed, they will retain a beautiful appearance with regular care. In the end, new homeowners looking for beauty, durability and an overall cost-effective alternative should look strongly at a paver-based driveway.
Travertine King inc., the largest distributor of natural stone pavers such as travertine pavers, granite pavers, and marble pavers to the Long Island region, are direct importers of paver products from countries like Italy, India, China & Turkey. Their entire stocked product line is offered in French multi pattern colors & 6x9 inch pavers with matching 2 inch thick bull nose for copings and steps along with split face material for wall cladding and step risers. All travertine pavers stocked are 1.25 inch thick with a tumbled finish. Other finishes are available upon request. Travertine King is currently the only supplier of 6x9 inch travertine pavers & natural stone pavers which is best size and most popular in Long Island & the US for herringbone pattern, soldier bordering, and radius designs. Feel free to take a look at their pavers online http://travertinepaverking.com