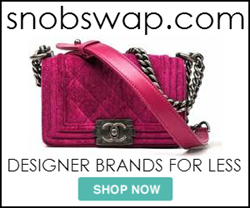 Up to 15% of American consumers will shop at a consignment store per year, which is increasing with online resale exploding.
(PRWEB) July 17, 2014
At the 27th annual NARTS: The Association of Resale Professionals conference, close to 400 consignment stores attended workshops on how to grow their businesses. Workshops included social media tips, offline marketing strategies, and online sales and growth.
With over 1,100 members, NARTS serves thrift, resale, and consignment shops of all types by providing educational and professional development for store owners and managers. According to Bonnie Kallenberg, Education Chair and President of NARTS, "This year's conference was the most successful conference we've ever had." Industry experts including SNOBSWAP CEO Elise Whang hosted 16 different workshops.
Whang held a workshop on "Capitalizing on the Growth of Online Resale." SNOBSWAP.com is an online mall of upscale consignment boutiques nationwide. Top designer consignment boutiques are selected to bring their stores online on SNOBSWAP. SNOBSWAP.com also has a robust peer-to-peer marketplace where individuals can buy, sell, and swap designer fashion.
Whang presented on the landscape of the online resale industry, estimated to be growing at over 10% annually. The resale industry as a whole is undervalued at $13B and growing at 7% per year compared to retail, which is growing at 3%. Whang says, "Up to 15% of American consumers will shop at a consignment store per year, which is increasing with online resale exploding."
Whang stressed the importance of an online presence. "Today's shopping is tied to a device," she says. "Mobile commerce will triple in the next four years. Being found online establishes initial trust with potential customers."
Kallenberg agreed stating, "The industry is changing and we must too. Millennials are shopping online, mobile, and comparing prices that way. In addition to the many hats store owners already wear, the e-commerce hat is there and if we don't pick it up, we'll become obsolete."
Local brick and mortar stores from New York, Los Angeles, Miami, Washington DC, San Francisco, and Las Vegas are using SNOBSWAP as their e-commerce platform, and the list is growing. Who What Wear calls SNOBSWAP a "massive e-bazaar that grants you access to the top brick-and-mortar consignment shops and closets in the land."
Recent consignment boutiques that launched on SNOBSWAP are Mint Condition, Closet Jupiter, House of Style, Hello Gorgeous, Laurie Ann's Designer Resale, and Junction Vintage.
About SNOBSWAP:
Snobswap is the premier online platform to sell, swap, and shop pre-owned designer clothing, handbags, shoes, and accessories. Snobswap is the only online marketplace that brings access to the best consignment stores and top closets online. Snobswap mobile app is coming out this summer.