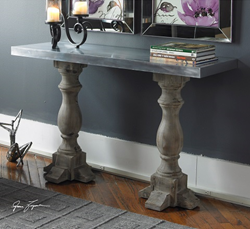 Console tables are quite thin, which means they won't intrude on walkways, but because they're taller than normal tables, they have the heft needed to make an entryway feel furnished.
(PRWEB) April 28, 2014
HomeThangs.com – the Online Home Improvement Store has made their goal to deliver the right product to the consumer. With that in mind, shopping and home design tips, as well as special product selections are being introduced.
Entryways are one of the oddest rooms in the home. They're the first things guests see and set the tone for the house as a whole, but are often made of little leftover patches of space carved out or crammed in between the main rooms. That can make for some pretty unusual layouts, and a space that isn't exactly easy to decorate. HomeThangs.com has introduced a guide to one piece of furniture that works great in these problematic spaces: console tables, which combine a guest-approved grandeur with a compact, versatile footprint.
Entryways aren't large spaces; even in a big home, they aren't really designed for furniture. Often, full sized furniture would actually crowd the area, making it feel cramped and overfilled. But the slightly enclosed, sectioned off nature of entryways means they'll look a bit empty without any furniture at all. That's where console tables come in. Because they're very thin, they sit close up against the wall and won't intrude on walkways. But because they're taller than normal tables, they have the heft needed to make the space feel furnished.
Every entryway is different, but often there will be at least one blank wall perpendicular to the front door. It might be between the door and the staircase, or just the wall to a neighboring room, but usually this will be the one big blank spot in the entryway. Hanging art here can work, but even a large piece will leave the lower half of the wall looking quite bare. A console table – especially one with an interesting base, will flesh out that space nicely, offering a good height but with a slim profile that won't take up much space in a narrow entryway.
The Big Blank Wall is an even bigger problem when it happens to be directly across from the front door, but console tables are a great solution here, too. Because that wall will be the first thing every guest sees, it's the perfect opportunity to add a little designer flair. Even very basic console tables work by virtue of being stylishly unusual-shaped, and many are specifically designed as statement pieces. Put a small cluster of interesting objects or a little greenery on the table and top it off with a framed piece of art, and instead of a blank wall, the front door will open on a gorgeous, designer looking arrangement.
In a smaller entryway, consider hanging a decorative mirror over the console table instead. A large, decorative mirror can help make the space feel larger, both by enhancing the visual depth and enhancing the natural light.
Console tables also work really well in entryways with area rugs, because they're the perfect size to fit in the recommended 18-24" border of bare floor between the edge of the rug and the wall without protruding onto the rug itself.
Finally, console tables serve the simple function of any surface placed near an oft-used entrance: a place to put down mail, keys, purses, and so on. Now, the slightly narrower surface (not to mention the designer nature of most console tables) will probably discourage letting the papers build up for too long, but even the most decorative console tables do still add this little bit of functionality.
For more information, check out the full article here, or see more gorgeous tables from Uttermost.
HomeThangs.com is not only a home improvement superstore, it also provides expert design tips and a comprehensive shopping guide, taking the ideas from professional interior designers, and offering tips to the consumers on how to pick the products to best suit their needs.