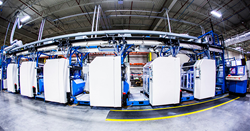 Sanford, Fla. (PRWEB) November 05, 2015
Consolidated Label Company, a leading manufacturer of custom labels in the United States, has acquired a 34" wide 10-color film press to expand its production of shrink sleeve labels and flexible packets in response to increased demand for these specialty print products. The 10-color press allows for 4 color process printing with additional stations for spot color inks and UV finishes.
The press was developed by RG Engineering Inc. and is now the widest flexographic press in Consolidated Label's production line. A new UV LED curing lamp system - used to quickly dry UV inks and finishes - will accompany the press for UV ink and finish options. At launch time, the UV drying system is the largest of its kind in the industry.
The addition of the 34" press will help the company strengthen its presence in the shrink sleeve and flexible packaging markets while better serving current high-volume customers. "This is the first time in our history we've gotten a press this big and solely dedicated to shrink sleeves and flexible packets," said Joel Carmany, president of Consolidated Label. "We see where the industry is headed, and our recent expansion shows that we're ready to fulfill customers' evolving needs."
About Consolidated Label:
Consolidated Label is one of the country's leading suppliers of custom labels, shrink sleeve labels and flexible packaging. The company produces custom label solutions for thousands of customers across a wide variety of industries including food, beverage, household, medical, pharmaceutical and promotional products. For more information, visit http://www.consolidatedlabel.com