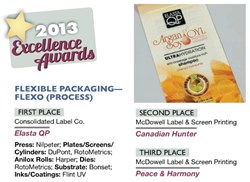 Longwood, FL (PRWEB) September 10, 2013
Consolidated Label Company, a leading manufacturer of custom labels in the United States, has received several top honors for digital and flexographic printing in the 27th annual Excellence Awards competition hosted by packagePRINTING magazine. The company placed first in two categories: digital labels and flexible packaging (flexographic process printing).
This is the second consecutive year that Consolidated Label has won the digital labels category. The winning digital label for 2013 was printed for Lighten UP, a skin care product line based in Miami, Fla. The company also won first place in the flexible packaging category with a shrink sleeve label for Elasta QP, a hair care line for men and women of color.
"Quality and service are at the core of everything we do. We're honored to be recognized in multiple categories because it exemplifies our commitment to customers and quality label products," says Joel Carmany, president of Consolidated Label.
In addition to first place wins, the company took third place with its labels for Salt Tequila and Sol Mate in the respective categories of flexographic labels (line) and flexographic labels (line and screen). The judging criteria for the Excellence Awards are based on three factors: print quality, function and finishing.
For over 25 years, packagePRINTING has recognized companies in industries that produce custom labels, wine labels, flexible packaging, folding cartons or corrugated materials.
About Consolidated Label:
Founded in 1981, Consolidated Label is one of the country's leading suppliers of custom labels and flexible packaging. The company produces custom labels and packaging for thousands of customers across a wide variety of industries including food, beverage, household products, medical, pharmaceutical and promotional products.
For more information, visit http://www.consolidatedlabel.com.