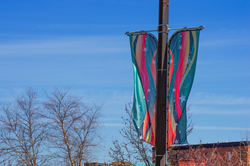 By eliminating the need for a bucket truck to change out flags, it opens up all new possibilities for municipalities and businesses.
Kalamazoo, MI (PRWEB) May 07, 2014
Consort Display Group announced today a solution that will drastically change street-side communication while saving municipalities, colleges and businesses thousands of dollars. The FlagTrax® street flag system utilizes patented technology to allow unique, custom flags to be mounted on light poles and used as a communication tool, presenting an alternative to street banners. The most noteworthy advantage in the FlagTrax system is that once the system is installed, street flags can be changed from ground level, eliminating the need for a bucket truck.
The system is an aluminum track that is mounted vertically onto on the same type of city or shopping center light poles, walls and other supports as street banners. Once the initial installation is completed with the use of a bucket truck, a flexible "PushPull™" rod carrying the street flag is inserted into the track up to the final mounting height. Access to this tamper-proof track can be mounted at six foot above the ground for maximum convenience or eight foot where added security may be required. All flag changes can happen from the ground (FlagTrax Video Demo), saving thousands of dollars every year on a typical municipal street communication program. "By eliminating the need for a bucket truck to change out flags, it opens up all new possibilities for municipalities and businesses," stated Roger Lepley, President of Consort Display Group. "Messages can be changed out quickly, easily and more frequently allowing event organizers greater flexibility to promote more events within a city and significantly adding to the sense of the area's vitality and activity."
Another difference in the system is the street flag itself. Fabric is generally a light weight dye sublimated polyester or nylon flag material that waves, glows and flutters in the breeze while street banners are typically made from stiffer materials such as vinyl or marine grade fabrics.
"The FlagTrax system is a great alternative and logical extension to our Kalamazoo Banner Works product line," Lepley continued. "We like that we can now offer our customers the option to choose between our traditional street banners and new street flags."
The FlagTrax system won SGIA Display Hardware Product of the year at the October 2013 SGIA trade show in Orlando, Florida. "We had a tremendous response to FlagTrax when we introduced the product at the SGIA show," stated Roger Lepley. "The majority of the people at the show had never seen anything like it. Now that we have the manufacturing process down we are ready to take orders."
FlagTrax was invented by Nexus Developments Limited in New Zealand. Consort Display Group is the North American manufacturer and distributor of the FlagTrax System and will manufacture the aluminum track, the PushPull™ rod and the top support bracket at its Kalamazoo, Michigan facility. The product will be sold to resellers and to end users.
###
Consort Display Group is a designed-oriented manufacturing company located in Kalamazoo, Michigan. Consort's other major brands include Kalamazoo Banner Works and BannerFlex hardware for municipal street pole banners, Display One® Tradeshow Exhibit System, Abstracta Modular Display System for retail fixtures, Podia Tabletop Display for restaurants and business, Dori Pole pennant flag systems and Kalamazoo Waterjet for industrial metal cutting.