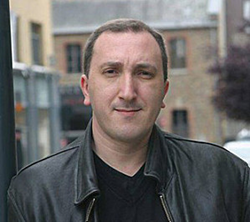 Suspense done to perfection.
New York, New York (PRWEB) March 31, 2014
Mystery and thriller publisher Le French Book has brought on a new translator to work on a second thriller by the prizewinning, international bestselling author David Khara. Sophie Weiner, a freelance translator from Baltimore, Maryland, is currently working on The Shiro Project, a follow-up to The Bleiberg Project, which sold over 130,000 copies.
Sophie Weiner earned degrees in French from Bucknell University and New York University, and then went on to complete a master's in literary translation from the Sorbonne, where she focused her thesis on translating wordplay in works by Oulipo authors. For her, translation is about "bringing people in contact with new worldviews. I'm thrilled to be even a small part of the process."
The Shiro Project is part of the Consortium thriller series that juggles time and place in a potent mix constructed around flashbacks, with a good dose of chase scenes, gunfights, explosions and threats. Khara uses the horrors of World War II—human experimentations and germ warfare—on a backdrop of today's paranoid geopolitics. The hero of this entertaining series is a sharp-witted mix of Highlander and James Bond bent on justice.
In The Shiro Project, reporter Branislav Poborsky is running away from a bad marriage, when he witnesses the Czech army covering up the extermination of an entire village. Saved in extremis by the gentle-giant Mossad agent Eytan Morgenstern, he is thrown into a troubling race to defuse a larger-than-life conspiracy. Eytan's mentor is kidnapped, and he must join forces with his arch-rival to put an end to a mysterious group that has weapons of mass destruction. Once again, the atrocities of World War II come back to haunt the modern world. What links exist between Japanese camps in China in the 1940s, a US Army research center in the 1950s, and the deadly threat the world faces today? From Prague to Tokyo, with stops in Ireland, yesterday's enemies become today's best allies and mankind seems on the verge of repeating the errors of the past. What can a lone man do against the madness that is bound to follow?
In The Bleiberg Project, Khara explores the consequences of the mad scientific research done by the Nazis and gets readers wondering if Hitler's atrocities are really over. It's an adrenaline-packed race to save the modern world from a wide-reaching conspiracy, written with a sharp style. Library Journal calls it a "quick read to be savored." The Bleiberg Project is currently available in English as an e-book. The print book release is scheduled for summer 2014. The Shiro Project is scheduled for release later in the year.
Advance praise for The Shiro Project
"Suspense done to perfection." -Le Monde
"Mossad, Japan, bacteriological weapons--all the ingredients of an impeccably written thriller." Page Library Journal
Top author
French author David Khara, a former journalist, top-level athlete, and entrepreneur, is a full-time writer. Khara wrote his first novel—a vampire thriller—in 2010, before starting his Consortium thriller series. The first in the series, The Bleiberg Project, was an instant success in France, catapulting Khara into the ranks of France's top thriller writers.
About Le French Book
Le French Book (http://www.lefrenchbook.com) is a New York-based publisher that brings France's best crime fiction, thrillers, novels, short stories, and non-fiction to new readers across the English-speaking world. Its motto is: "If we love it, we'll translate it."
©2014 Le French Book, Inc. All rights reserved. Information is subject to change without notice.