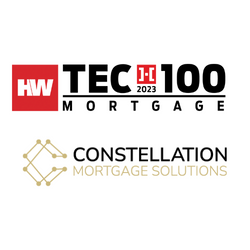 CMS is fully invested in bringing innovative technology to the residential mortgage industry
SOUTHFIELD, Mich. (PRWEB) March 02, 2023
Constellation Mortgage Solutions (CMS) is honored to be named to the 2023 Tech100 Mortgage award winners by HousingWire, an award that recognizes the most innovative technology companies in the housing economy.
For the eleventh year, the Tech100 program provides housing professionals with a comprehensive list of the most innovative and impactful organizations. The list can be leveraged to identify partners and solutions to the challenges that mortgage lenders and real estate professionals face every day.
"As someone who had a front-row seat to watch the housing economy's tech transformation, I am increasingly in awe of the innovation we have seen from the Tech100 winners year after year," HW Media Editor in Chief Sarah Wheeler said. "With new technologies emerging every day, I am proud to be part of this exciting journey that has positioned the industry to be more efficient, more transparent and more accessible than ever before."
Each year the Tech100 program has continued to expand, and the applicants increase in caliber and innovation as the demand for technology in housing continues to progress. For the fourth year in a row, the Tech100 program has been presented in two groups — Tech100 Mortgage and Tech100 Real Estate —to highlight the innovation and achievements of organizations from both sectors.
Constellation Mortgage Solutions' NOVA LOS sets the GOLD standard in mortgage originations as one of the few platforms in the market that is a cloud-hosted, browser-based, enterprise LOS platform experience for lenders. Launched in 2022, NOVA LOS is an innovative enterprise software solution designed to provide greater ROI. It does so through automation that drives efficiency and productivity throughout the lender's organization within a user-friendly modern UI/UX.
NOVA LOS is a complete end-to-end loan origination solution with a modern user experience and an interactive dynamic workspace. Through NOVA LOS' exclusive tech partnerships, CMS offers a consistently better customer service model, eliminating the need for clients to focus on multiple vendors with barely bolted-on integrations that are commonly seen across the industry.
"We are honored to be selected by HousingWire as a 2023 Tech100 Mortgage winner," says Stephen Ryczek, President of Constellation Mortgage Solutions. "CMS is fully invested in bringing innovative technology to the residential mortgage industry, and while this award represents the culmination of a huge initiative, it is the first step in a multi-phase roadmap to bring mortgage lenders leading-edge tech."
About Constellation Mortgage Solutions
Constellation Mortgage Solutions provides industry-leading lending technology solutions through its products: Award-Winning NOVA LOS, Loan Servicing, and ReverseVision LOS. As the Gold Standard for mortgage solutions, CMS offers Lenders of all sizes enterprise technology empowering Lenders on the front lines with innovative solutions designed to deliver exceptional loan quality, regulatory compliance, and drive profitability. Since 1999, CMS has been working to help today's mortgage professionals streamline operations and close more loans faster to increase ROI. constellationsolutions.com
About HW Media
HWMedia is the leading digital community for mortgage, real estate and fintech professionals to engage, learn and access the information they need to support decision-making and business growth. Aligned with our mission to Move Markets Forward, we publish daily news and content through each of our core publishing brands including HousingWire, RealTrends and Reverse Mortgage Daily. HW Media is based in Dallas, TX with team members across the country.
About HousingWire
HousingWire is the most influential source of news and information for the U.S. mortgage and housing markets. Built on a foundation of independent and original journalism, HousingWire reaches more than 125,000 newsletter subscribers daily and 1 million unique visitors each month and has more than 5,000 members and event attendees. Visit http://www.housingwire.com or http://www.solutions.housingwire.com to learn more.