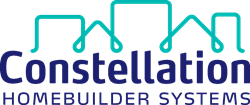 "Our new brand speaks to the quality, innovation and leadership of our team, and the role we're taking in the evolution of the home building industry, with smart, flexible products that make every part of the building process easier and more efficient."
Toronto, ON (PRWEB) January 10, 2017
It's a new year and a fresh new brand for Constellation HomeBuilder Systems at the International Builders' Show in Orlando, Florida. The company, a leader in providing software solutions for home builders and developers, has just launched their new logo, new tagline, and new website that truly illustrate their commitment to quality and innovation.
Constellation HomeBuilder Systems gives builders the tools to succeed, and their new tagline says it all: "The power to build smarter."
"We empower builders with information to drive business objectives, and to simplify the process of building homes and condos," says Chris Graham, Vice President of Constellation HomeBuilder Systems.
Constellation's integrated and standalone software systems scale to the needs of builders and developers of all sizes. The company is constantly enhancing their products based on the feedback of their customers – North America's best and brightest home builders.
The company recently expanded their services offering by adding the consulting team of Woodland, O'Brien & Scott. Specialized homeowner surveys allow builders to analyze the data that really drives customer satisfaction, and use that data to turn customers into lifetime champions.
"The new brand reflects where we're headed as a company," says Graham. "It speaks to the quality, innovation and leadership of our team, and the role we're taking in the evolution of the home building industry, with smart, flexible products that make every part of the building process easier and more efficient."
To see the company's exciting new brand, visit http://www.constellationhb.com.
Or, visit Constellation in Booth #W5661 at the 2017 International Builders' Show at the Orange County Convention Center in Orlando, Florida now through January 12th. To make an appointment, please contact sales(at)constellationhb(dot)com.
About Constellation HomeBuilder Systems
Constellation HomeBuilder Systems is the largest provider of software and services in the home building industry. The company builds software products for private and public production home builders, and efficient custom builders. Their innovative solutions include accounting & business intelligence, scheduling, estimating and purchasing, land development, sales management and CRM, warranty and customer service, and digital marketing. Constellation HomeBuilder Systems is the home building software division of Constellation Software Inc., an international provider of market-leading software and services for specialized industries, traded publicly on the Toronto Stock Exchange.
For more information, please contact:
Elmira Abushayeva
Director of Marketing, Constellation HomeBuilder Systems
888-723-2222
eabushayeva(at)constellationhb(dot)com