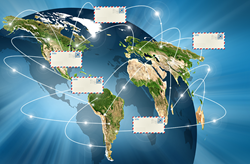 Constellix figures out what went wrong, notifies you within seconds, shows you how it happened, and then helps you figure out how to fix it.
Reston, VA (PRWEB) June 09, 2015
When a website experiences an outage, where does the user point the finger? Most times, a run-of-the-mill monitoring service will only give the user brief glimpses behind the curtain, providing only whether the route was successful or terminated. Constellix trace routes tear back the curtain, showing users every step their data took on its way. With visual representations such as line graphs that show comparable monitoring across multiple regions, combined with side by side historical trace routes, users are able to see how their route is being directed, where it terminates, and how long it took.
Previously, these features were unheard of. Users could only see when their data was terminated, with no idea why, where, or how to fix it. "One of the common issues with monitoring services is that they just provide information on an issue, but they do nothing to help resolve the issue," says Steven Job, President of Constellix. "Constellix figures out what went wrong, notifies you within seconds, shows you how it happened, and then helps you figure out how to fix it." The historical trace route is the first feature that will be part of Constellix Sonar's Artificial Intelligence monitoring algorithms that help troubleshoot the problem immediately after the user is notified.
Historical trace routes provide both the current data in tandem with previous data points for comparison. Using this technique, users can troubleshoot in ways no other service has provided to this extent. Historical trace routes can help users get customers to their websites quicker and more reliably.
The best way to see the revolutionary implications of this is by using a common analogy used to explain system monitoring.
Hypothetically, a trace route is like a postal service carrier. The postal service hosts various terminals (aka: servers) that are used to direct mail. A piece of mail is being sent from Los Angeles to New York. That letter will have to pass through dozens of terminals along the way, each exponentially increasing the chances of the letter being lost or slowed down.
Say the letter never gets to New York and the sender only has a basic monitoring service. They will have to contact their provider and ask whether the letter made it to its final destination or was lost. The provider will either confirm or deny this. Then what? The sender still doesn't know where the letter is, or what errors happened that led to it getting lost. They will have to keep sending and re-sending the message trying different methods until hopefully the probabilities side with them and their message finds its receiver.
This method is inefficient, time consuming, and costly. Now, let's say the sender has the leading monitoring service (Constellix Sonar) they could utilize a trace route feature that will allow the sender to see where (which server) the letter last departed from and how long it took (latency). Not only that, but they can see all points the letter passed through, and even how much latency between each point to also help the sender improve efficiency.
Now, what if the sender still can't figure out what's wrong? The sender could utilize an innovative new feature called historical trace routes. This feature allows for users to view not only their current trace route, but see it overlaid the previous week (or chosen segment). Say the letter takes over a month to reach New York. The sender would want to know why, and what they can do to resolve this drastic increase in latency.
Constellix routinely captures trace routes on a customized interval, so users always have comparable data readily available. While looking through the trace route the user sees that the letter was halted in Houston, TX for over two weeks. There was recently a record-breaking flood which halted services. Using this data the user can now account for the drastic increase in send time, and reroute future service elsewhere to avoid the flood.
Try Constellix Sonar for free with a DNS Made Easy membership while Constellix is under Beta testing.
About Constellix and DNS Made Easy
Constellix Sonar is a subsidiary of Tiggee LLC, the creators the DNS Made Easy, and the world leader in providing global IP Anycast enterprise DNS services. Using Constellix, users can monitor their online infrastructure performance, troubleshoot issues, and resolve problems with a Cloud-based Traffic Management Suite. The only Traffic Management Service of its kind that helps fuel end-user experiences to incomparable levels.