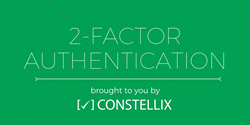 We're introducing user requested security protocols and modifying administrative features for ease of use.
Reston, VA (PRWEB) September 22, 2015
As Constellix DNS approaches launch, our engineers are developing new features as requested from our Beta users. These features will be rolled out periodically in packaged updates as Constellix gets closer to launch. "We're really excited about this group of updates," says President of Constellix Steven Job, "as we're introducing user requested security protocols and modifying administrative features for ease of use." Job us referring to 2-Factor Authentication which has gained popularity in light of recent DDoS attacks.
More specifically, 2-Factor Authentication is an easy to setup procedure that requires a user to provide a time sensitive code in addition to their password and username. All you have to do is download an app that provides a unique time sensitive code, and set up an emergency key in case you're even unable to access your account. While single factor authentication is still the dominant protocol, it is easily penetrable. 2-Factor Authentication adds an extra layer of security between attackers and your sensitive information.
Constellix is also releasing features to improve ease-of-use and administrative management of accounts. Joining the New Domain Wizard which was released last week are New User Management and easy Account Transfers. "We've improved our UI and made modifications of user permissions a snap," says Job. Now all admins have to do is use the New User Management features to quickly search for the user they want to modify, click the key next to their name and change their permissions within the same screen.
Transferring from one account within Constellix DNS to another has been broken down into one simple step with Account Transfers. Now, users simply select the desired account they want to import domains from and the changes will commit instantly. While certain account-specific configurations will not transfer over, Global Traffic Director will be transferred if previously configured. Paired with the New Domain Wizard, Constellix DNS makes switching easy; whether it be from one account to another, or from another provider to Constellix.
Try out these new features for free with your DNS Made Easy membership while Constellix DNS is still in Beta.
About Constellix
Constellix is a subsidiary of Tiggee LLC, the creators of DNS Made Easy, and the world leader in providing global IP Anycast enterprise DNS services. Using Constellix Sonar, users can monitor their online infrastructure performance, troubleshoot issues, and resolve problems with a Cloud-based Traffic Management Suite. The only Traffic Management Service of its kind that helps fuel end-user experiences to incomparable levels.
Constellix DNS features maximum DNS speeds and industry topping layers of redundancy. Built upon DNS Made Easy's industry leading 13 year 100% uptime record, Constellix DNS builds on a proud history of reliability and is the preferred DNS hosting choice for companies big or small.