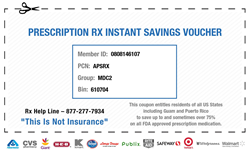 This year, MDC hopes to ease your passage through these festivities with discount coupons for three medicines designed to lighten the load.
Austin, TX (PRWEB) December 16, 2014
The holidays approach, and with them, the ever-present threat of constipation and stomach upset. This year, Medicationdiscountcard.com hopes to ease your passage through these festivities with discount coupons for three medicines designed to lighten the load.
Linzess (linaclotide)
Linzess is prescribed to treat irritable bowel syndrome (IBS) and the chronic constipation often associated with IBS. It works by increasing the amount of water and chloride in the intestines, which softens stool and eases bowel movements. It should not be taken if a patient has a blockage in the stomach or the intestines. Linzess is intended for adults, as its safety has not been adequately studied in patients under the age of 18. Using a Linzess coupon can lower the cost of this medication at the pharmacy.
Cephulac (lactulose)
Cephulac is a man-made sugar solution used as a laxative to treat constipation. It increases the water content in the intestine and softens stool, allowing for easier and more frequent bowel movements. It is important to inform your doctor if you are diabetic before using this medication. Cephulac discount cards are available for print-out at Medicationdiscountcard.com.
Amitiza (lubiprostone)
Amitiza is often prescribed to treat chronic constipation, or constipation brought about by the use of pain relievers (narcotics). It is sometimes prescribed to women diagnosed with IBS to ease the symptoms of constipation. Amitiza works by increasing the water in the intestines, thereby softening stool and easing bowel movements. It is only prescribed to adults, and should never be taken by patients suffering from severe diarrhea. Using an Amitiza discount card can reduce the consumer costs for this medication.
Constipation is a gastrointestinal problem and is defined by fewer than three bowel movements a week, with hard and dry stools that are difficult to pass. Constipation is often accompanied by an uncomfortable feeling of bloating. This condition can be caused by diet (too little fiber intake), but it can also be an indication of a serious illness. One should always report chronic constipation to their physician, as it can lead to more severe conditions if untreated. The National Institute of Health reports that constipation affects close to 42 million people in the United States.
Note: The information above is intended to supplement, not substitute for, the expertise and judgment of your physician, pharmacist or other healthcare professional. It should not be construed to indicate that use of the drug is safe, appropriate, or effective. Consult with a healthcare professional before using this drug.
About Medicationdiscountcard.com
Medicationdiscountcard.com was started to provide discounts on prescription drugs to those who need it most. It's goal is to provide the largest savings possible when compared to other cards.