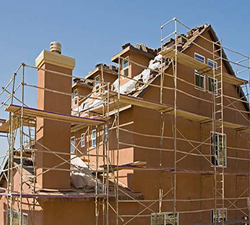 Twin Cities, Minnesota (PRWEB) September 04, 2013
New residential construction spending statistics for July 2013 show new housing gains and amazes housing analysts as it surpasses predictions, according to the joint release from the U.S. Census Bureau, and the Department of Housing and Urban Development.
"Twin Cities residential investors watch construction spending levels because it offers insights into the housing market and into home builder activity. Positive consumer spending also helps bolsters the health of our economy, as real estate buyers are not daunted so far by rising mortgage rates," says Jenna Thuening, owner of Home Destination. "While the new construction spending numbers in the report are surprising to some, the continues upward movement falls right in line with other positive indicators across the Twin Cities housing market this summer."
Economists keep vigilant on home mortgage rates due to the increases since Chairman Ben Bernanke stated in June that the Federal Reserve may start clipping its bond purchases in the remaining quarters of 2013 if the overall economy and the job market demonstrate ongoing gains. Leaders at the National Association of Realtors are observing if the Fed will begin slowing its monthly bond buying decisions to $70 billion or $75 billion. Or if possible delays of pullback bond buying to await more data on how the housing economy is faring in the second half of our current calendar year. Twin Cities new construction has held its own so far - as the reports positive construction spending numbers indicate and Twin Cities home buyers are purchasing ahead of possible further rate increases.
Key metrics the Census construction spending data shows:
Single-family spending on new construction registered a slight increase of 0.5%.

home improvement category increased 0.8%.
Multifamily construction spending remained even with a mere increase of 0.1%.
Privately-owned housing completions in July were at a seasonally adjusted annual rate of 774,000, which is a 1.8 percent above the revised June estimate of 760,000.
Privately-owned housing completions stand at 15.0 percent above the July 2012 rate of 673,000.
Single-family housing completions in July were at a rate of 571,000; this is 5.9 percent above the revised June rate of 539,000.
July rates for units in multifamily buildings with five units or more was 195,000.
Both single family home permits and multi-family home permitting was up for the month of August 2013, showing continued strength in the new construction market. A total of 3,315 single family homes were permitted so far in 2013, up 31 percent over January through August 2012. Construction permits thus far in 2013 for multi-family construction is also increasing, reaching a 17 percent increase over 2012. The total are 2,761 units in 2013 versus 2,358 units in 2012. Minneapolis proved once more that it can lead by obtaining new listings in top five cities, permitting 332 units in July. Maple Grove came in second, issuing 288 units. third place for new construction permits belongs to Lakeville with 46 units, followed by Plymouth with 40 and Blaine with 28 units permitted. Statistics are freshly update and reported by the Twin Cities Builders Association.
July's construction spending report is more upbeat for multiple reasons. Housing economists at JPMorgan anticipate that our housing recovery will maintain positive steps forward with construction this year hitting 925,000 homes and apartments, a jump from 18 percent from 2012. The forecast is for a further increase to stronger levels around 1.13 million homes and multifamily apartment dwellings in 2014, according to an article titled "U.S. Residential Construction Spending Highest Since Sept. '08"
Whether planning on building a custom home or buying a Twin Cities home that's built on spec in a new subdivision, Home Destination's offers guidance and helpful insights. Jenna Thuening's metro residential experience benefits Twin Cities real estate sellers seeking to determine how to market their home and buy another one.