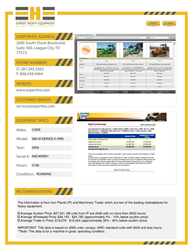 League City, Texas (PRWEB) February 17, 2016
Representatives with Expert Heavy Equipment announced that it has been working diligently to become a resource in determining fair market values.
"We are taking concerted initiatives to be a resource to get general market pricing whether they are buying and or selling," said Milissa Wise, Director of Operations for Expert Heavy Equipment.
Wise explained that there is not a standardized resource for assessing the value of heavy construction or farm equipment available to end buyers and sellers. Most individual owners and companies become dependent on the appraiser, dealership or broker to provide them with a value, which she says, can be subjective.
"Expert Heavy Equipment offers a free pricing resource that provides third party market data validating the fair market value on equipment based on general details of the machine," Wise pointed out, before adding,
Wise stressed that its market pricing service helps to provide the seller and or buyer negotiating power and saves time in doing the research.
For more information contact service(at)experthe(dot)com.