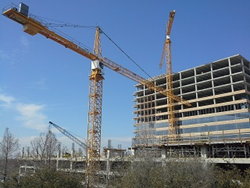 Construction-related corruption is a hot topic for owners and contractors alike.
Dallas, TX (PRWEB) January 26, 2015
"Construction-related corruption is a hot topic for owners and contractors alike," says Courtenay Thompson, the facilitator for The Construction Audit and Cost Control Institute's (CAACCI) Construction Fraud course. No one knows the true extent of fraud in construction projects, but recent corruption cases in China, Canada, and even the United States reveal startling glimpses into the seedy nature of many public construction projects.
The Charbonneau Commission in Canada exposed corruption in public construction projects and subsequently implicated politicians, civil servants, contractors, and organized crime. (Huffington Post 11/2014)
China's President Xi Jinping has cracked down on corruption leading to arrests of top officials, including China's former security tsar Zhou Yongkang. (BBC 1/2015)
In the United States, investigations of blatant pay to play schemes have led to criminal convictions of public officials, including the mayors of Detroit and New Orleans and officials with the Pennsylvania Turnpike Commission. (NY Times 3/2013, Washington Times 9/2014, Mcall 11/2014)
Corruption is not limited to the public sector. The fallout from kickbacks and pay to play schemes has been embarrassing for owners and contractors. Mishandling the investigative response can lead to more damage than the original fraud. In this course, attendees will explore types of fraud common to construction, techniques for reducing construction fraud and how to respond when fraud surfaces. Considering these and other recent global disclosures, CAACCI is pleased to announce the following enhancements to the Construction Fraud training:

Lessons from case examples of pay to play
Suggestions for changing the culture
More tips and techniques for addressing bribery and corruption
Seminar leader, Courtenay Thompson, is a recognized authority on fraud-related training for internal auditors, management and investigators. Since entering the educational consulting field in 1981, he has written and presented courses for corporations, government and professional associations worldwide. He is the co-developer of courses on audit and control of construction costs, and has developed and presented courses on purchasing fraud and contract auditing. His courses are known for providing practical approaches to real problems.
The Construction Audit and Cost Control Institute (CAACCI) has been providing public offering and in-house professional development training seminars in affiliation with Courtenay Thompson & Associates since 2008. The principal instructors (Courtenay Thompson and Rich Townsend) have been providing construction audit and fraud professional development training to management and auditors for over 20 years. CAACCI was created as a resource to share information and solutions for today's challenges in auditing and construction cost control. CAACCI members include project management and construction audit representatives from a wide range of private and public organizations.