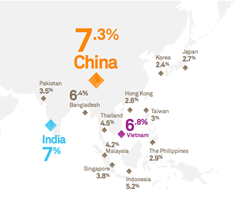 Like any industry, understanding the market trends and forecasts will be instrumental in positioning our company for continued growth and success. We will ensure that we will have the lowest prices on high demand equipment.
League City, Texas (PRWEB) April 27, 2014
Representatives with Expert Heavy Equipment said they are gearing up for what they predict to be a continued demand within the Asia marketplace in 2014.
"Construction spending in Asia accounted for 44 percent of total global construction spending in 2013," said Milissa Wise, Director of Operations for Expert Heavy Equipment, which is the parent company of EHE Auctions.
Construction spending in China, according to Wise, was almost $1.8 trillion in 2013, making it the largest market in the world and more than $1 trillion larger than the markets in both the United States and Japan.
EHE's predictions could prove to be right on target, which could bring its used heavy equipment services in handy for those trying to meet the growing demand.
When it comes to getting a good deal, Wise stressed that EHE prides itself in being able to provide its customers with the best deal possible.
According to Asia Construction Outlook, Malaysia continues to see strong growth, especially in infrastructure as the projects related to the government's economic transformation program are implemented.
"Indonesia continues to have huge potential although there may well be a short-term slowdown due to the forthcoming presidential elections," Wise pointed out, before adding, "More uncertainties exist in other Southeast Asian countries although there could be significant opportunities in Myanmar as the country continues to become more open."
Wise, whose company receives 95 percent of its business from referrals and loyal repeat customer, went on to note that it is suggested that Vietnam and Indonesia are expected to exhibit increasing market openness over the next 12 months.
"Like any industry, understanding the market trends and forecasts will be instrumental in positioning our company for continued growth and success," Wise said. "We will ensure that we will have the lowest prices on high demand equipment. Our goal is to become a leading provider for used heavy construction equipment internationally."
For more information, please visit: http://www.experthe.com