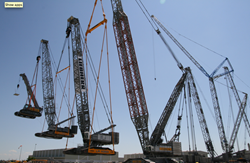 The global demand is high as you can see, and we're prepared to help both buyers and sellers.
League City, Texas (PRWEB) May 11, 2014
The global market for used construction equipment is expected to reach 208.36 billion by 2020, according to a new study by Grand View Research, Inc.
Milissa Wise, Director of Operations for Expert Heavy Equipment, which is owned and operated by female Marine veteran, says whether you're buying or selling used heavy equipment, EHE is the place to go.
"We're the most competitive wholesaler of used heavy construction equipment, meaning we offer true wholesale pricing on all of our heavy equipment," Wise stressed, before adding that the growing number of infrastructure projects on a global scale is expected to be the key driving force for the market over the next six years.
Increasing mining activities, according to Grand View Research's study, which require the use of construction equipment are also expected to positively impact the industry over the forecast period.
"Technological development has led to the use of advanced machinery that offers considerable benefits over traditional mechanical equipment," Wise noted from the study.
Earth moving machinery accounted for over 40 percent of the overall market in 2013, and is expected to remain the largest product segment over the forecast period.
"The global demand is high as you can see, and we're prepared to help both buyers and sellers," Wise said.
Material handling machinery includes crawler cranes, as well as truck mounted and trailer mounted cranes, and is expected to grow at the fastest rate of 5.7 percent from 2014 to 2020.
Wise, whose company receives 95 percent of its business from referrals and loyal repeat customer, pointed out that concrete mixers and pavers are expected to be the largest and fastest growing sub-segment of concrete and road construction equipment.
Asia Pacific accounted for over 50 percent of the global market share in 2013, which can primarily be attributed to considerable revenue generation from China.
With all the expected growth and demand, Wise promised that when it comes to getting a good deal, EHE prides itself in being able to provide its customers with the best deal possible.
"Our goal is to become a leading provider for used heavy construction equipment, internationally, Wise said. "We already have a solid track record of being just that."
For more information, please visit: http://www.experthe.com.