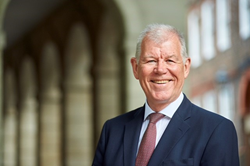 With our experienced team of ex-FCO consular staff, Consularcare can provide support and comfort for both travellers and their families
London, UK (PRWEB UK) 13 July 2016
Over four decades, Boyd McCleary was instrumental in facilitating global business partnerships, shaping policy, managing major projects and supervising visa and consular work in a wide range of countries, including Germany, Canada, Korea and Turkey.
Boyd's role as an adviser is to provide strategic advice to Consularcare, drawing on his many years in the diplomatic service. During much of his career, Boyd had direct responsibility for consular work, visas and crisis management. In Turkey, one of the most popular destinations for British tourists, he managed a large consular and immigration team at the Embassy in Ankara and at Consulates and Honorary Consulates across the country. In Germany, he headed up one of the biggest British passport and visa issuing operations in the world. In Malaysia he oversaw consular work and engaged in important negotiations with the government about immigration policy. And in the British Virgin Islands, within ten days of taking up his post as Governor, he had to lead the territory-wide emergency operation and manage the response to the devastation of Hurricane Earl.
Boyd is convinced that Consularcare has an important job to do and is uniquely placed to carry this job out: "There are more people travelling today than ever: GAP-year students and backpackers looking for new adventures, retired people looking for new horizons, businessmen hunting for new markets. People of all ages are on the move, seeking excitement, travelling more widely and going to new places that are opening up to tourism like Myanmar and South America. But when you enter new space, you're exposing yourself to new risk. We are aiming to mitigate that risk. With our experienced team of ex-FCO consular staff, Consularcare can provide support and comfort for both travellers and their families. I am excited to be part of that and very much looking forward to the challenges involved."
Founded in 2013, and led by a team of experienced Diplomats, Consularcare provides world-class consular support services for overseas travellers; bridging the gap between FCO provision and consumer need. From a short-term crisis to a complex catastrophe, Consularcare's team of global specialists are on hand 24 hours a day in 198 countries for immediate support, expert advice and dedicated resolution services.