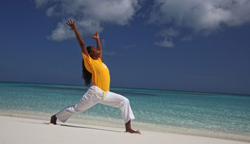 Tijuana, Mexico (PRWEB) March 09, 2014
Established in 1995, the California College of Ayurveda is the longest running, State-approved college offering professional training program for the study of Ayurvedic Medicine in the West.
A Clinical Ayurvedic Specialist is focused in the management of disease. They also work on the preventative application of Ayurveda. For more information please visit (para más información): http://bit.ly/1bTikQ4.
This includes health and wellness promotion, elimination of the primary causes of the disease and its manifestations in the digestive system and mind. The intern will work with the following therapies: Ayurvedic food, herbs, aromatherapy, color, sound and mantra, Yoga and other ayurvedic and yogic practices. To request an Ayurvedic consultation, please visit http://www.EscuelaAyurveda.com
The school offers a variety of shorter length workshops and seminars, and trains students to become Ayurvedic practitioners. The school also offers the "Educador de Salud Ayurveda" program, a year-long training program (Level I studies).
For more information on the programs offered by the Escuela de Ayurveda de California, please visit http://www.EscuelaAyurveda.com or call +1 530 616 8332.