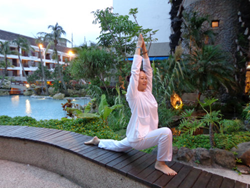 (PRWEB) March 01, 2014
La Escuela de Ayuveda de California is pleased to announce Ayurvedic Consultations in Bogota with its director, Santiago Suarez. For more information, please visit (para más información): http://www.EscuelaAyurveda.com.
A Clinical Ayurvedic Specialist manages specific conditions through Ayurveda. This includes health and wellness promotion, elimination of the primary causes of the disease and its manifestations in the digestive system and mind. The practitioner will work with the following therapies: Ayurvedic food, herbs, aromatherapy, color, sound and mantra, yoga and other ayurvedic and yogic practices.
Santiago Suárez Rubio graduated with honors from Cornell University with a degree in "Yoga, Ayurveda and Science." He also holds a degree in psychology and computer science. He is a Clinical Ayurvedic Specialist and Pancha Karma Specialist from the California College of Ayurveda. Suárez Rubio teaches yoga regularly throughout America at the International Sivananda Yoga Vedanta Centers where he received his Advanced Yoga Teacher certification.
Suárez Rubio currently has an Ayurvedic practice in Bogotá, Colombia, and directs the Escuela de Ayurveda de California which aim is to spread the knowledge of Ayurveda in Spanish throughout Latin America.
Ayurveda is the most complete and best developed natural system of health worldwide. It is one of the few systems of medicine that treats the patient at the level of body, mind and consciousness. Each person intuitively wants someone who really understands who they are and why they are sick at the deepest level.
For more information on the programs offered by the Escuela de Ayurveda de California, please visit http://www.EscuelaAyurveda.com or call +1 530 616 8332.