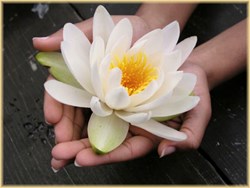 Tzipora Dadeiva is a talented Ayurvedic Health Practitioner offering her services in Bolivia.
Santa Cruz, Bolivia (PRWEB) October 22, 2013
La Escuela de Ayuveda de California is pleased to present the Ayurveda Health Practitioner Interns from 2013. The group of interns comes from Argentina, Bolivia, Mexico, Colombia and the Dominican Republic. For more information please visit (para más información): http://bit.ly/1bTikQ4.
An Ayurvedic Health Practitioner intern is focused on the preventative application of Ayurveda. This includes health and wellness promotion, elimination of the primary causes of the disease and its manifestations in the digestive system and mind. The intern will work with the following therapies: Ayurvedic food, herbs, aromatherapy, color, sound and mantra, Yoga and other ayurvedic and yogic practices. Those who have a medical condition and are looking for a specific Ayurvedic treatment, should consult a Clinical Ayurvedic Specialist.
Tzipora Dadeiva Soler Castellón was born in La Paz, Bolivia. She is a medical surgeon and diabetologist. At the age of 12 years she showed interest in classical literature until he met his favorite author Deepak Chopra through his many books. It was a trigger to realize her dreams of studying medicine. After finishing her studies, she wanted to deepen in her studies by learning Ayurvedic medicine and complementing her knowledge in the medical professions.
She currently works in a low income community clinic offering free counseling about how to incorporate Ayurveda in their lives. In the evenings, she attends consultations at her private practice of Ayurveda.
Established in 1995, the Ayurvedic school is the longest running college offering professional training programs for the study of Ayurvedic Medicine in the West (medicina ayurvedica). The school offers a variety of shorter length workshops and seminars, and trains students to become Ayurvedic practitioners. The school also offers in La Paz and throughout Bolivia the "Educador de Salud Ayurveda" program, a year-long training program (Level I studies).
For more information on the programs offered by the Escuela de Ayurveda de California, please visit http://www.EscuelaAyurveda.com or call +1 530 616 8332.