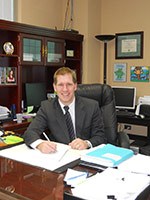 Jacksonville, Florida (PRWEB) July 30, 2013
Consumer Attorney Services added attorney Jack Lezman of counsel in July to help more financially distressed North Carolina residents with bankruptcy filings. Consumer Attorney Services knew Lezman's 18 years' experience as an attorney would make him a valuable addition to its national team of attorneys.
Lezman decided to pursue starting his own legal practice shortly after graduating law school. In 1997 he started the Law Office of Jack G. Lezman, P.A. with a focus on consumer bankruptcy, personal injury, auto accidents, workers compensation and social security disability. His firm has helped financially distressed North Carolinians file bankruptcy for over 16 years.
Lezman attended law school at the University Of Dayton School Of Law and graduated with his Juris Doctor degree in 1995. He was admitted to the North Carolina Bar in the same year. Prior to this, he was a Spartan at Michigan State University where he received a Bachelor of Arts degree.
Lezman has dedicated himself for more than 18 years to using his legal prowess helping people get out from under the strain and pressure of debt. He has helped both consumers and business owners with chapter 7 and chapter 13 bankruptcies.
He is a member of several professional associations including the Mecklenburg County Bar Association, the North Carolina State Bar and the National Association of Consumer Bankruptcy Attorneys.
Consumer Attorney Services recently experienced an increase in the number of North Carolina residents looking for bankruptcy assistance. As a result, Consumer Attorney Services plans to utilize Lezman's experience in chapter 7 and chapter 13 bankruptcies to help more North Carolina residents recover from their difficult financial situations.
Consumer Attorney Services is a full service consumer advocacy law firm headquartered in Jacksonville, Florida, helping families with but not limited to foreclosure defense, debt settlement and bankruptcy.