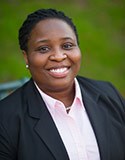 Jacksonville, Florida (PRWEB) August 06, 2013
Attorney Kimberly Moss recently joined the national foreclosure defense team at Consumer Attorney Services in July to help more distressed Texas homeowners avoid foreclosure. Because Moss worked in the credit and financial industry with Experian Information Solutions prior to law school, Consumer Attorney Services knew her experience would be put to good use as a foreclosure defense attorney.
Moss is a Dallas native who pursued law school with the intention of strengthening her community. She learned about the enormous demand for legal representation for financially distressed homeowners after the housing market crash while working with Experian Information Solutions.
She stayed true to her home state roots by attending law school at the University Of Texas School Of Law in Austin, Texas. Prior to law school, she attended the University of Florida where she received a Bachelor of Arts in political science and Spanish.
While in law school, Moss worked for Texas RioGrande Legal Aid (TRLA). There, she provided assistance to help low-income families with various legal matters including landlord-tenant disputes, Medicaid and unemployment claims, pro se divorce, child custody and visitation, and protective orders for victims of domestic violence.
Upon admittance to the Texas Bar, she entered the oil and gas industry as a petroleum landman. She worked in courtrooms across the United States by researching mineral title and negotiating for leases for a major natural gas exploration company.
Moss later decided to start her own law firm so she could use her attorney skill-sets to benefit individuals and families instead of large corporations.
She is admitted to the State Bar of Texas and the United States District Court Southern District of Texas. She is also a mediator in compliance with the Texas ADR Act.
Moss is a member of the Houston Bar Association and volunteers her time as a member of the Houston Volunteer Lawyer Association. She is a published author with work in the Texas Journal on Women and the Law.
Consumer Attorney Services hopes the recent addition of Moss will help to save more Texas homeowners from foreclosure. Consumer Attorney Services is a full service consumer advocacy law firm headquartered in Jacksonville, Florida, and offers legal services including but not limited to: foreclosure defense, debt settlement, and bankruptcy law.