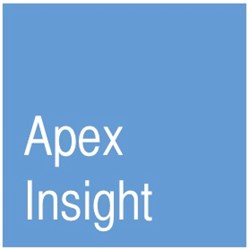 Debt collection has been hampered by a tough collections environment during the downturn while debt purchase, which was hit hard by the credit crunch, has since seen volumes and prices increasing strongly
(PRWEB UK) 22 July 2013
This report by Apex Insight describes how the UK consumer debt collection and debt purchase market segments have fared during the current economic downturn. It finds that outsourcing of debts is well established in the private sector with the public sector now seen to be a key area of growth.
Having been boosted by the increase in consumer borrowing over the last decade, debt collection agencies have more recently been hampered by the worse collections environment experienced during the prolonged downturn in the economy. Debt purchase was hit hard by the credit crunch in 2008, with both sellers of portfolios and the capital to buy them being in short supply. The market has now returned to growth with both volumes purchased and prices paid increasing strongly in the last couple of years.
The research shows there is significant overlap between the two segments. Many of the larger debt collection agencies have also purchased portfolios of debts in recent years while several debt purchasers have carried out debt collection on a contingent basis.
Provision remains relatively fragmented with several hundred collections agencies and over 60 buyers believed to have purchased debt portfolios. The largest agencies include independent players such as Wescot and Moorcroft as well as BPO providers such as Capita and Arvato – both of which have recently made acquisitions in the area – while the biggest debt purchasers are Cabot, Lowell, Arrow Global, CapQuest, Marlin, Link, Max Recovery and 1st Credit.
There has been significant acquisition activity, from private equity and from corporate acquirers looking to diversify internationally or add to their range of service offerings. There have also been substantial fundraising exercises including four high-yield bond issues in 2012 and 2013. Further such transactions are likely and there is also industry expectation that one or more of the leading debt purchase players will seek a full stock market listing in the near future.
The study's forecast, which analyses historical relationships between key drivers and variables and incorporates findings from interviews with key market players, sets out how Apex Insight expects the market to develop. It takes into account areas of uncertainty such as how slow economic recovery with continued high unemployment may lead to consumers reducing borrowing levels further with less debt for sale and a continued poor collection environment, and market expectation of a correction in debt prices.
The full report: "UK Consumer Debt Purchase and Debt Collection: Market Insight," which includes findings from interviews with those in the market, profiles of the leading players as well as our assessment of trends and forecasts for future growth, is available from apex-insight.com/consumer-credit.
About Apex Insight
Apex Insight is an independent provider of research, analysis and consulting services covering consumer credit and other markets in the UK and Europe. In addition to Debt Purchase and Collection, it has recently researched and published market reports covering sectors including Payday Lending, Pawnbroking, Home Credit, Rent-to-Buy Retail, Peer-to-Peer Lending and Vehicle Leasing.
Companies mentioned in the report
1st Credit
Akinika
Aktiv Kapital
Arrow Global
Arvato
BCW
Cabot Credit Management
Capita
CapQuest
CCSG
Credit Solutions
Encore
Equidebt
Gothia
IDEM Capital
Interlaken
Lewis Group
Link Financial
Lowell Group
MacKenzie Hall
MacKenzie Hall
Marlin
Max Recovery
Moorcroft Group
Paragon
PRA
Robinson Way
Serco
Sigma
Tdx Group
Tessera
Wescot