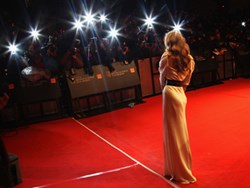 Celebrities are constantly on the lookout for ways to increase their overall exposure, so your proposal may be exactly what they're looking for
Los Angeles, California (PRWEB) January 03, 2014
The start of the 2014 year marks a milestone for CelebrityNook.com because the team-members have increased the VIP database, so getting celebrity addresses and phone numbers has never been easier.
Never before has celebrity fever been higher, so the demand for contacting celebrities is at an all-time high. To meet the demand, the entertainment industry professionals at CelebrityNook.com have a network of personal assistants in the world's highest-profile talent agencies, publicity companies, and management firms to the stars. Because the database is updated daily, people wanting to contact a celebrity are able to get real-time information which comes directly from the celebrity's representatives.
Having a celebrity make a personal appearance at your event or party brings extraordinary gravitas and credibility to companies, but business opportunities for celebrities don't end there because celebs are constantly on the lookout for ventures and partnerships that can increase their overall exposure. Businesses of all kinds want to contact celebrities for endorsements, donations, autographs, movie props, or children's charities. So, if you're looking to contact Riahnna, Taylor Swift, Madonna, Justin Bieber, Oprah, Nicki Minaj, Miley Cyrus, Katy Perry, Selena Gomez, Lady Gaga or Jennifer Aniston, then the team at Celebrity Nook can help.
ABOUT THE COMPANY
Celebrity Nook is founded by entertainment industry professionals from Hollywood and Greater Los Angeles. The goal of the company is to enable fans, businesses and entrepreneurs with the business addresses, phone numbers and emails to celebrities and high profile individuals from a variety of fields which include but aren't limited to: entertainment, music, movies, television, philanthropy and business. The database has more than 70,000 contacts to the representatives of celebrities including agents, managers, publicists, personal assistants and lawyers. All purchases are made securely through PayPal and the company offers a 100% money-back guarantee that your celebrity contact information is real and accurate. All contacts sent include the name, address, phone number and email to the celebrity's business representative. For more information, visit http://www.CelebrityNook.com.