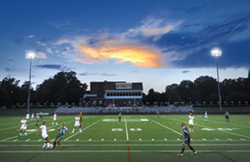 We are thrilled that Guildford College and Coach Rusiewicz will be hosting a camp this summer.
San Rafael, CA (PRWEB) March 30, 2016
US Sports Camps' Contact Football Camp will run from July 24th to July 27th at Guilford College in Greensboro, North Carolina for campers ages 8-18.
Directing the Contact Football Camp is Head Coach at Guilford College, Chris Rusiewicz. Coach Rusiewicz became Guilford College's head football coach in 2011, after four seasons as an associate head coach at NCAA Division III Ursinus College. "We are excited to have this camp on our campus. It allows for us to coach the game and for campers to visit our campus and get excited for college," says Coach Rusiewicz. Accompanying Coach Rusiewicz is an accomplished coaching staff that makes up the Div. III Guilford College Quakers; Spencer Becknell, Bracy Maynard, Kevin Mill, Jordan Farmer, Brad Davis, Steve McNeely and Zach Zullinger. Each coach brings both a unique skill set and enthusiasm for the game - making this camp a great experience.
"For years, we have been trying to find the right site for our Contact Football Camp in North Carolina. We are thrilled that Guildford College and Coach Rusiewicz will be hosting a camp this summer," states Mike de Surville, Senior Vice president of US Sports. "The Guilford College campus is the ideal setting for camp and Coach Rusiewicz and his staff are looking forward to providing and action packed week."
US Sports Football Camps provide focused, intensive training that is essential to improvement for all skill levels. Every facet of the game is covered with an emphasis on fundamentals to help players become valuable team members. At each location, campers are broken into groups with other players of similar age, abilities, and goals. Each camp director does their best to advance players to the next level, keeping in consideration each camper's experience and desire to improve.
Players, Coaches, Parents and others interested in the 2016 US Sports Football Camps can visit http://www.ussportscamps.com/football or call 1-800-645-3226.
About US Sports Camps
US Sports Camps (USSC), headquartered in San Rafael, California, is America's largest sports camp network and the licensed operator of Nike Sports Camps. The company has offered summer camps since 1975 with the same mission that defines it today: to shape a lifelong enjoyment of athletics through high quality sports education and skill enhancement.