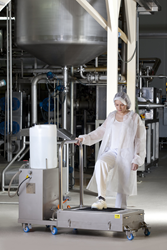 Minimize risk by removing contaminants and pathogens.
Davidson, NC (PRWEB) September 02, 2014
One of the company's most successful products is the JETIcleaner Professional boot and shoe cleaner. It's a portable, free-standing unit available with or without wheels and consists of a stainless steel frame, step-up cleaning platform with handrail, enclosed 0.5 hp (0.37 kW) motor, and a 9.24-gallon (35 liter) tank for cleaning fluid.
"Over 70 percent of pathogens and other contaminants in a plant travel from one area to another along the floor and through passageways," says JETI Chief Engineer Thorsten Gebauer. "The JETIcleaner Professional boot and shoe cleaning system does an excellent job in minimizing this risk."
The unit, which measures 59 X 22 X 11 inches high (150 X 22 X 27.5 cm), is designed for use in industries of all types. It is particularly effective in food and pharmaceutical production facilities, automobile factories, semi-conductor plants and a wide variety of other industrial environments where maximum hygiene is of utmost importance.
The heart of the machine, and what sets it apart from other cleaning systems, is its dynamic cleaning platform, which consists of 14 rows of counter-rotating motorized brush strips that are 0.5 inches (12.7 mm) wide and move independently from one another in opposite directions.
The self-cleaning, self-disinfecting brush strips, which feature short, strong nylon bristles, move like mini conveyor belts and perform excellent cleaning action while providing solid standing stability for users.
Other hygienic products that JETI GmbH provides include air showers, door mats, hand washing stations, wheel cleaning machines, and full after sales service.