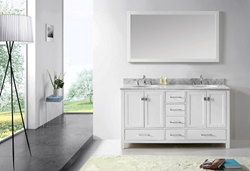 Made with simple, striking lines, Shaker cabinets are a good fit with a contemporary space, but have a little more style and flair than the slab cabinets that are more common in a modern style.
(PRWEB) July 08, 2015
HomeThangs.com – the Online Home Improvement Store has made their goal to deliver the right product to the consumer. With that in mind, shopping and home design tips, as well as special product selections are being introduced.
Shaker style cabinets have come back around in a big way. They're easily one of the top home design trends this year, and have been showing up in kitchens and bathrooms of all different styles. HomeThangs.com has introduced a guide to this uniquely flexible style, as well as why it's become so popular in bathrooms in particular.
Shaker cabinets are so versatile in part because they have their roots in history, but all the sleek, clean lines more closely associated with a contemporary style. Though shaker style furniture was spawned by the Shakers, an ascetic religious group, in the late 1700s, it lacked the elaborate ornamentation that was common elsewhere during that time period. Instead, the design relied on simple lines and a sturdy construction made for longevity and durability. What that means, though, is that while these cabinets have a much more contemporary feel, they still have a little hint of history and a subtly classic edge. Depending on the color, accents, surrounding decor, and even subtle changes in the designs of the cabinets themselves, it's possible to play up either the modern or traditional feel of the style, which means they can blend seamlessly with just about any space.
For an in depth look at how to make a shaker style cabinet blend with a variety of different designs, check out the full article here.
HomeThangs.com is not only a home improvement superstore, it also provides expert design tips and a comprehensive shopping guide, taking the ideas from professional interior designers, and offering tips to the consumers on how to pick the products to best suit their needs.