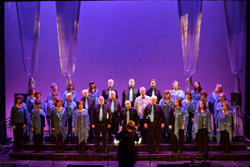 It's going to be unlike anything we have ever done.
Richardson, TX (PRWEB) April 29, 2014
The Contemporary Chorale, Richardson's premier community choir, announces its spring concert, Magic To Do, on May 31, 2014, at 2:30 PM and 7:30 PM at the Eisemann Center for Performing Arts, (2351 Performance Drive, Richardson). Tickets are available by calling 972-744-4657, online at http://www.eisemanncenter.com, or at the Eisemann Center ticket office Monday through Saturday 10am-6pm.
Under the direction of Artistic Director, Melanie Moore, this 40-member, mixed chorus will open with "Magic To Do", by Stephen Schwartz, from the musical Pippin. "Magic" is the theme for the show drawing on the magic of fairytales, fantasy, performing, love, technology – finding magic in everyday life. This family-friendly event showcases more than twenty songs designed to entertain and delight. The audience will be invited to participate in a version of "Let it Go" from the movie Frozen, one of the most popular songs of the year and a showstopper.
"The music selected for this show is really magical. I am excited about the pieces we have put together. It's going to be unlike anything we've ever done," commented Moore.
Magic To Do will also feature internet sensation, Brian Hull, performing "Let it Go" from Disney's Frozen in 21 Disney and Pixar character voices. The video of Brian's unique rendition of "Let it Go" went viral shortly after being published to YouTube and it currently has more than 10 million views, and counting. View the video: http://youtu.be/hjbPszSt5Pc.
New this year, The Contemporary Chorale has invited singers from around the globe to join in its Virtual Chorale. This creative and interactive artistry uses the magic of technology to incorporate videos of vocalists singing their parts with The Contemporary Chorale performance of "Somewhere", by Leonard Bernstein and Steven Sondheim, from West Side Story.
Moore explained, "We are so thrilled to have the resources and talents at hand to be able to offer this unique perspective of artists singing from different parts of our world. We have had a great response from fans of the Chorale, former members, and strangers from as far away as Norway."
In addition to the wonderful sounds of The Contemporary Chorale, this performance will feature the live accompaniment of the Chorale Combo comprised of Scott Ayers, Eric Czechowski, Kyle Henson and Chorale accompanist, Crysta Jones. Choreographer, Becky Fudge, will stage the performance.
About The Contemporary Chorale
The Contemporary Chorale, Richardson's premier community choir, exists to provide quality musical entertainment that achieves a high standard of excellence. Founded in 1956, The Chorale has been an artist outlet and resource for like-minded individuals passionate about singing. The women and men of The Contemporary Chorale are entertainers who love to sing, dance and perform for you. Whether singing Broadway, jazz, or romantic melodies, these performers approach the music with enthusiasm, musicality, and a high degree of professionalism. For more information on The Contemporary Chorale, please visit http://www.thecontemporarychorale.org.
Melanie Moore, Artistic Director:
Melanie Moore is presently in her fourteenth year as Artistic Director of The Contemporary Chorale. She has taught music privately and in the public school system collectively for over 25 years. She taught both elementary and secondary choral music in the Lake Highlands area (Richardson ISD). She has also served as Adjunct Professor of Music Education at Dallas Baptist University where she taught courses in elementary and secondary music education methods. In addition to maintaining a private voice studio, Ms. Moore is in demand as a vocal, choral and instrumental accompanist, and vocal/choral coach and clinician. Ms. Moore was also a founding member of the Texas Choral Artists, a Dallas-based professional chamber choir. She holds a B.M. in Piano Pedagogy from Oklahoma Baptist University and a M.A. in Music Education from Texas Woman's University.