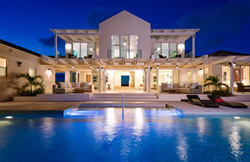 The motto for this business used to be location, location, location!
Providenciales, Turks and Caicos Islands (PRWEB) May 31, 2014
The Turks and Caicos Islands is an extremely popular destination for premium beach villa vacations and CARIBIQUE is always looking for suitable opportunities to extend its portfolio of luxury Turks and Caicos villa rentals. The two new additions are both located on the soft, white, sandy beaches the Turks and Caicos Islands are so famous for, but also very representative for a switch in taste and demand for Caribbean villa rentals.
Villa Isla, located on Long Bay Beach, Providenciales, is a perfectly planned vacation villa rental with 5 equally appointed master bedrooms, each with private bathrooms. There is no danger of any arguments or discussions about who gets the small bedroom or the bedroom without a view at Villa Isla. All 5 of the bedrooms are master bedrooms and they all have stunning ocean views. The exterior architecture and the interior design are spacious, contemporary and luxurious, which is exactly what an increasing number of villa guests are looking for. Villa Isla has a large, infinity-edged swimming pool and generous outdoor living areas with comfortable, contemporary furnishings.
Wild Cherry, located on the Turtle Cove section of world-famous Grace Bay Beach, is perfect for two couples who want to spend their vacation together. It also has two equal master bedrooms, both with private bathrooms and outdoor rain showers. Wild Cherry was designed with the living areas and swimming pool on the second floor to take full advantage of the stunning views over Grace Bay. The swimming pool even features a fire pit, which creates a unique atmosphere in the evenings. An additional feature of this Turks and Caicos villa is the roof terrace furnished with comfortable sofas and equipped with a wet bar. The roof terrace is the perfect place for enjoying Caribbean cocktails and memorable sunsets.
"The motto for this business used to be location, location, location. However, we have noticed that when two villas share the same location, e.g. they are neighbors, demand for the modern, contemporary villa is much higher than its more traditional neighbor" said Carl McBurnie, owner of CARIBIQUE.
About CARIBIQUE
CARIBIQUE Villa Rentals is owned and operated by CARIBIQUE Ltd., a company in the "Beautiful by Nature" Turks and Caicos Islands. Their user-friendly website offers almost 180 Caribbean villas in 16 of the most popular Caribbean destinations. For more information about listing a villa on the website or booking a Caribbean vacation, contact Carl McBurnie or visit http://www.caribiquevillarentals.com/.
We're not just unique, we're CARIBIQUE.