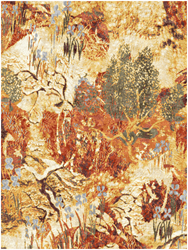 This month, Cyrus Rugs revealed a new collection of fine contemporary rugs.
(PRWEB) July 16, 2014
Cyrus Artisan Rugs is the largest retailer of handmade rugs in the Midwest, with an impressive 13,500 square-foot showroom and massive online store. This month, Cyrus Rugs revealed a new collection of fine contemporary rugs. The newly unveiled Aanya Collection is breathtaking in originality. Expertly knotted by hand from the finest silk and premium wool, this collection truly stands out with unique designs and superior craftsmanship.
The Aanya Collection features a high-low finish and average thickness, making the pieces ultra soft underfoot. A standout piece is the Alice in Wonderland print, with a contemporary spin on a classic floral motif. This rug is available in two different yet gorgeous color palettes. The first is a golden red, and the other is a darker palette with purple and gold accents.
Another stand out design from the Aanya collection of contemporary rugs is called Pitter Patter. Available in four different color schemes, Pitter Patter varies from dark rugs with vivid pops of red accents to metallic silver with bright pink floral accents. The iridescence of the silk pairs perfectly with the design. A slightly different take on the floral motifs is featured in the Poise design. With a contemporary floral design, these painterly pieces are extremely unique area rugs.
Throughout the month of July, Cyrus Artisan rugs will be featuring the Aanya Collection, along with other fine contemporary rugs. All of the area rugs were handmade in India using the finest materials. Cyrus also announced their price match guarantee and lowest price policy. At the time of sale, Cyrus will price match all local retail competitors as well as online retailers.
Cyrus Artisan Rugs
5115 American Blvd.
W. Bloomington, MN 55437
Phone: (952) 922-6000
-Contributed by TRIXMEDIA : Creating Possibilities
Branding Firm based in Beverly Hills, California.