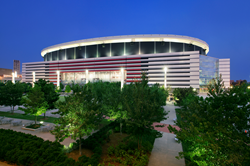 The culture of service that is demanded of everyone associated with the Georgia Dome is second to none. Good is not good enough. Excellent is the only acceptable score on service standards and we are proud to be part of this historic and landmark venue.
Northridge, CA (PRWEB) April 15, 2014
Contemporary Services Corporation (CSC), the world leader in crowd management and event security, announces its contract renewal with the Georgia Dome in Atlanta through 2017. Georgia Dome, operated by The Georgia World Congress Center Authority, is the home stadium for the NFL's Atlanta Falcons and Georgia State University. CSC Atlanta provides crowd management services under the direction of Carl Adkins, Georgia Dome General Manager.
A CSC client since 2001, the Georgia Dome annually hosts International Soccer, Supercross, SEC Football Championship Game, Graduation Commencement Ceremonies, concerts, the Chick-fil-A Kickoff Game, and the Chick-fil-A Bowl, which was selected as one of an elite group of six bowl games to host the new College Football Playoff. The Georgia Dome has hosted Super Bowl XXVIII and XXXIV, the gymnastics and basketball events for the 1996 Summer Olympic Games, and multiple NCAA Final Four tournaments.
CSC Atlanta also provides services for the Atlanta Falcons, University of Georgia, Georgia State University, Georgia Institute of Technology, The Gwinnett Center, Atlanta Motor Speedway, Georgia World Congress Center, Centennial Olympic Park, Atlanta Botanical Garden, and The Classic Center. CSC's Atlanta Branch Manager, Greg Overstreet, stated, "The culture of service that is demanded of everyone associated with the Georgia Dome is second to none. Good is not good enough. Excellent is the only acceptable score on service standards and we are proud to be part of this historic and landmark venue."
Contemporary Services Corporation (CSC) is the world leader in crowd management and event security for the entertainment and sporting event industries. Throughout its 47 years of experience, CSC has garnered a loyal and esteemed clientele base, including more than 100 stadiums and arenas, over 100 universities and colleges, more than 30 convention centers, and numerous clients within the professional ranks of MLB, MLS, NBA, NFL, NHL, and NASCAR. CSC has also provided services for the world's most prestigious special events, including Collegiate Bowl Games, NCAA Final Four Tournaments, PGA Tournaments, US Open Tennis, 30 Super Bowls, 9 Olympic Games, 4 Presidential Inaugurations, 2 Papal visits, and 2 FIFA World Cups. CSC operates more than 50 branch locations throughout the United States and Canada.
http://www.csc-usa.com
facebook.com/csc.crowdmgmt
twitter.com/csc_crowdmgmt