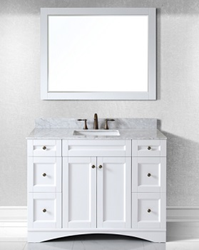 Shaker style cabinets combine very simple modern lines with a more traditional feel, and have an assertive architectural quality that really draws the eye.
(PRWEB) February 15, 2014
HomeThangs.com – the Online Home Improvement Store has made their goal to deliver the right product to the consumer. With that in mind, shopping and home design tips, as well as special product selections are being introduced.
Though they have their roots in history, Shaker style cabinets have been getting a lot of renewed attention lately. Made with simple, striking lines, Shaker cabinets are a good fit with a more contemporary space, but have a little more style and flair than the slab cabinets that are more common in a modern style. HomeThangs.com has introduced a guide to using Shaker cabinet's unique blend of old and new design elements in a variety of different style bathrooms.
Shaker style cabinets were originally designed by the Shakers, an acetic religious group that immigrated to America in the late 1700s. The Shakers invented many different kinds of furniture that are still used today, and pioneered techniques that made furniture stronger and more durable. Like many modern environmentalists, they focused on high quality and locally sourced materials. The design of Shaker style cabinets (and Shaker furniture in general) is very simple, which reflected the group's simple way of life. The cabinet doors feature a single smooth center panel enclosed in a perfectly squared frame, with no other embellishment besides maybe a door handle or a drawer pull.
Shaker style cabinets are also sometimes referred to as Mission or American Craftsman style cabinets, but while there are arguably some differences between the three, they're functionally identical. Local sourcing and use of specific materials or techniques was a major priority with all three types of cabinets when they were first used, but the recent widespread popularity of the style has very much blurred this distinction. That means this simple style is available widely and inexpensively, in a huge variety of materials, colors, and finishes.
But while the durability and artisan appeal of Shaker style cabinets are what made them famous and gave them their lasting power, it's actually their simple style that appeals to buyers today. Homeowners are moving away from ornate traditional designs and looking for something that's a little more relaxed and casual, but not too modern. Shaker style cabinets fit the bill perfectly, combining very simple modern lines with a more traditional feel. Plus, those stark, solid, perfectly straight lines have an assertive architectural quality that really draws the eye, visually balancing and leveling out the space without making any larger changes to the bathroom.
Shaker cabinets are the poster children of transitional design, but because they're available in so many sizes, shapes, and colors, they can really be used with an amazing variety of different styles. Unlike perfectly flat cabinets, which have a very modern look, or really ornate raised panel cabinet doors which have a distinctly antique feel, Shaker style cabinets sort of move between the two and can work equally well with either. The simple frame evokes more ornate, traditional cabinets while keeping the style simple; the strong lines add visual interest to the bathroom without making it look busy. In short, shaker style vanity cabinets have a clean, finished look that's more relaxed and contemporary without entirely giving up that slightly traditional look and feel.
On the flip side, all those stark, straight lines work great in a glamorous modern bathroom, too. That small hint of tradition helps elevate a highly modern bathroom, giving it a touch of old world sophistication without deviating from the stark straight lines that define a minimalist modern decor. This style works especially well in a high-contrast black and white bathroom not only because the simple square frames add that sense of history, but because they can help balance out some of the wilder patterns that often accompany a black and white bathroom. It's the simple straight lines that help ground these opulent, glamorous modern styles, giving them that chic contemporary feel even with more traditional trappings like a clawfoot tub or chandelier.
HomeThangs.com is not only a home improvement superstore, it also provides expert design tips and a comprehensive shopping guide, taking the ideas from professional interior designers, and offering tips to the consumers on how to pick the products to best suit their needs.