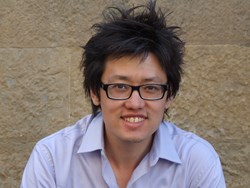 Mahtomedi, MN (PRWEB) December 26, 2013
St. Andrew's Lutheran Church will welcome Dr. Michael Chan for a three-week speaker series during the month of January.
The series is entitled "God, Creation, and Suffering," and will be held from 10:45-11:30 a.m. Sunday, Jan. 5, 12, and 19 at the church's Great Hall. Chan is an Old Testament assistant professor at Luther Seminary Bible Division. He is a noted Old Testament scholar and teacher. What excites him most is the opportunity to teach people who feel compelled to read Scripture on behalf of the church and the world.
"As one called to teach Scripture, there is nothing more fulfilling than helping the church's members grow as creative, humble, and critically-informed readers of the Bible," he said.
St. Andrew's Lutheran Church is located at 900 Stillwater Road in Mahtomedi, Minn. For more information, please visit the website at http://www.saintandrews.org, or call 651-426-3261.
About the company:
St. Andrew's Lutheran Church is a community of faith that welcomes all. They invite individuals to come as they are. They are there to help people grow in faith and to equip them to use their God-given gifts to make a difference in the world in the name of Christ.
They strive to provide worship experiences which draw people closer to a loving God. With the resounding Casavant Organ in the Main Sanctuary or the rocking, contemporary worship service in the Great Hall, they are dedicated to pointing all people to Jesus Christ.
Their traditional worship service uses the gifts of the nationally recognized Casavant Organ, stellar choirs and dynamic preaching. The contemporary worship service is an assembly of some of the best bluesy rock performers in the state. Firm biblical preaching and weekly Holy Communion are offered to all people for a transformational experience that lasts a lifetime.
St. Andrew's is a participating member of the ELCA. Visit their website to see their schedule of events and worship http://www.saintandrews.org.