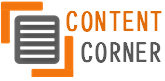 Toronto, Ontario (PRWEB) October 29, 2013
The primary online marketing goal for businesses is to increase online traffic, gain quality leads, and ultimately boost sales. But, all online marketing efforts are only as effective as the content they contain.
Content Corner responds to business needs by providing unique, quality content including blog articles, social media updates, press releases, landing pages, eBooks, presentations, etc. Giving businesses the opportunity to engage with online audiences on multiple platforms, and capitalize on online traffic.
Business owners are aware of the need to have a business website in order to tap into online markets. But, having a business website is no longer enough to remain competitive in today's marketplace. Business now need to develop an 'online presence'.
Developing an online presence takes time and requires dedicated resources. Businesses need to be active on social media platforms, engage with online audiences, and develop 'social proof'. Businesses also need to develop an online reputation and strive to be seen as experts in their industry. Publishing blog articles, press releases, research papers, presentations, and other forms of 'relevant' content, helps to not only demonstrate expertise, but also develop trust.
The Problem – business owners are busy. Many do not have the time nor the resources to effectively manage their online presence, and are loosing out to competitors online. Catherine McGillivray, founder of Content Corner says "leave your online content to us, and get back to business!" and she means it.
Content Corner provides businesses with what they need:

Articles to ensure that blogs are active and regularly updated with fresh, relevant, quality content.
Press releases to announce business news as well as new products and/or services.
Social media management including regular social media updates, sharing content relevant to target audiences, and boosting social engagement.
Landing pages specifically designed to convert online visitors into leads, and boost the effectiveness of paid online marketing campaigns.
Research papers, eBooks and presentations, sharing industry expertise and developing trust and confidence in the business brand.
Content Corner not only provides businesses with customized content, but does so with search engine optimization principles in mind. In other words, all content is created with specific keywords, keyword phrases, and link text to promote search engine optimization strategies. Optimized content forms the basis of any successful SEO strategy!
With Content Corner businesses can rest easy knowing their online presence is in good hands. Contact Content Corner today and find out what they can do for you!
About Content Corner:
Founder of Content Corner, Catherine McGillivray, is passionate about words, and the power they hold. With experience as the content and editorial manager of an Online Marketing Agency, Catherine understands the value of fresh quality content, as well as the search engine optimization, marketing and social benefits.
Content Corner develops, implements, and manages content and social media strategies to engage online users, develop social proof, as well as market business products and services. Content Corner provides both freelance writing services, as well as tailored service packages to meet business needs.
Content Corner – 1 Yonge Street, Suite Suite 1801, Toronto, Ontario M5E 1E5
Website: http://contentcorner.ca/