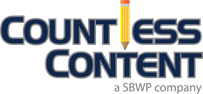 Countless Content is the nation's first unlimited content writing service with one low monthly fee and US Based, experienced writers!
Scottsdale, Arizona (PRWEB) March 14, 2017
Countless Content introduces the nation's first unlimited content writing service for one simple low monthly fee. The writers for Countless Content are US Based and veterans in the industry. Call (888) 407-7353 for more information and to sign up.
Content marketing is a key factor in how search engines rank websites. Google, Bing and Yahoo all consider both quantity and quality of content. Companies that want to achieve customer acquisition online should have a consistent content marketing strategy.
The major search engines have publicly stated that quality content is the most important ranking factor. The problem is that most websites have less than 25% of the content they should to even reach the first page of rankings.
Said David Greene, Founder and CEO, "Our service works great for agencies that need quality content every month, and also for companies that understand the need for producing content that is well written. Our writers are vetted and highly competent. There's no limit on what can be ordered and it helps tremendously with customer acquisition!"
Countless Content clients are assigned writers who are US based and veteran writers. There is no limit on the amount of content that can be ordered for the low monthly fee. The content produced is excellent for all types of content marketing needs including blogging, article directories, guest posting, ebooks, newsletters and more.
The company has developed a backend portal that permits clients to privately submit content requests, receive their files and have conversations with the writer. If clients are short on time and need the writer to come up with topics, that is fine as well. There is no contract, as the service is simply month to month.
The content writing service is the first of its kind in America, and provides a much needed turnkey service. The content is guaranteed, with any and all edits performed as needed quickly.
Countless Content is a division of Small Business Web Pros, which offers comprehensive, affordable web marketing services to small businesses nationwide.
Visit the Countless Content website to find out more and see some work examples.